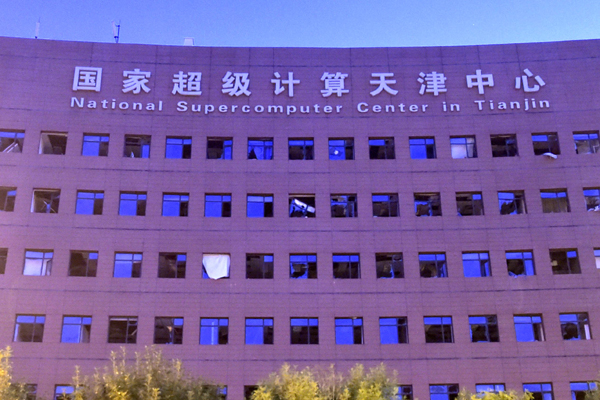 The National Supercomputer Center in Tianjin was damaged by the blast in Tianjin Binhai New Area on the evening of Aug 12. Photo taken on Aug 13. [Photo by Yue Yuewei/Xinhua]
TIANJIN - The Tianhe-1A supercomputer has resumed service on Monday after the Tianjin blasts damaged its building and supporting facilities.
The supercomputer, located about one mile away from the blast zone, was shut down about half an hour after the blasts on Aug 12. The ceilings and windows of its cooling and electricity supply facilities were damaged.
The shutdown has disrupted data service to its users, which include Tianjin Municipality's finance, commerce and meteorological departments, said Zhang Guihua, deputy director of the information and industry commission at Binhai New Area, where the blasts occurred.
Protected by a reinforced computer room, the supercomputer and its database remain intact.
Tianhe-1A, which can perform 2.57 quadrillion computing operations per second, was recognized as the world's fastest computing system in 2010, according to a biannual Top 500 supercomputer list.