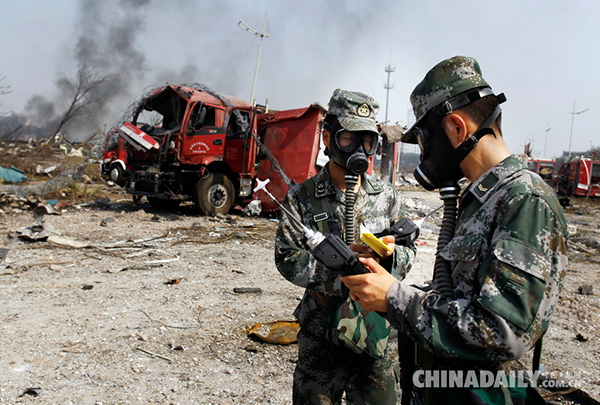 Air quality is monitored amid suspicions that the warehouse stored dangerous chemicals. [Photo by Zhu Xingxin/chinadaily.com.cn]
All sodium cyanide within the 3-kilometer radius of the core blast zone in Tianjin will be collected and neutralized before Monday evening, said He Shushan, deputy mayor of Tianjin who is in charge of work safety, at a press conference on Monday morning.
The chemicals were scattered mostly within a 100,000 square meter core area. A "very complicated and difficult" clean-up, partially due to the presence of 16,500 empty shipping containers, was underway, he said.
By 9 am on Monday, at least 114 have been killed and 70 remain missing after the blasts rocked a warehouse storing hazardous chemicals in Tianjin Binhai New Area on Wednesday, according statistics released at the conference.
Containers storing several hundred tons of sodium cyanide have been located by authorities at two places, said Shi Luze, chief of staff of Beijing Military Region, on Sunday. Some of the exposed sodium cyanide from exploded containers is being controlled with hydrogen peroxide and other solutions and the intact containers will soon be collected and transported to safe places.
Sand and earth barriers were built around the core area to prevent any leakage of cyanide and other pollutants. Cofferdams will be reinforced to prevent the outflow of contaminated water after it rains.
Initial estimates put the amount of cyanide at the site at 700 tonnes, most of which was unaffected.
Sodium cyanide is a highly toxic white, water-soluble powder that prevents the body from using oxygen. It is fatal if inhaled or ingested.
It is mainly used in chemical manufacturing and to extract gold and other metals in mining. When treated with acid, it releases the highly poisonous gas hydrogen cyanide.
One of the 17 air quality monitoring stations detected hydrogen cyanide exceeding normal level by 0.08 percent on Sunday, said Bao Jingling, chief engineer of the Tianjin Environment Protection Bureau, at Monday's press conference.
An extra 27 sites to monitor water quality have also been set up to detect cyanide, said Bao.
A total of 17 wastewater discharge monitoring stations have detected cyanide, with three in precautionary area exceeding the standard. One monitoring stations recorded cyanide exceeding the level by 27.4 times, while other two saw it exceed by 4.37 times and 0.96 times respectively, said Bao.
Death toll for the massive blasts rose to 114 after rescuers found two more bodies in the debris, Gong Jiansheng, deputy head of Tianjin's publicity departmentl said Monday.
Among the bodies, 39 were firefighters and five were policemen. The number of missing was previously 95, before 25 people were identified among the bodies found.
Rescuers have made four comprehensive search efforts through what they call "a maze of containers", and the search is still underway.
By Monday, a total of 698 people remain in hospital, of whom 57 are still in critical condition.
After arriving at the scene of the explosions near Tianjin Port to direct rescue work, Premier Li Keqiang said on Sunday that a central government investigation group had been set up.
The government will investigate the incident thoroughly and punish those accountable and those who failed to perform their duties and are suspected of dereliction of duty must be investigated, said Li.
"Only in this way can we act worthily for the residents and firefighters who died in the incident," he said.