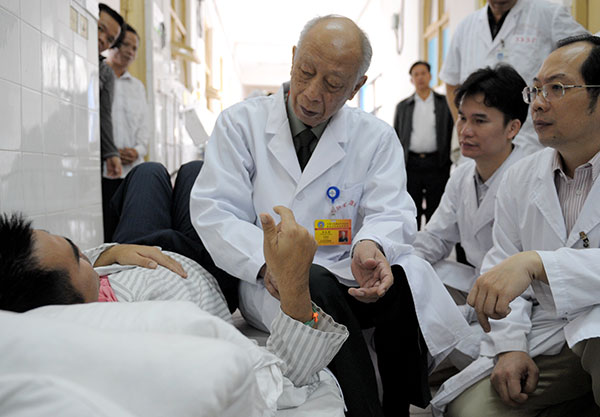 Doctor Huang Zhiqiang gives free treatment to patients at Hainan General Hospital in Haikou, Hainan province, in 2009. KONG LINGZHAN/CHINA DAILY
He had a 'family tradition for medicine and lofty spirit for the well-being of the country'
Doctor Huang Zhiqiang had a simple funeral. He left his body for medical research.
The quiet end for a pioneering figure in Chinese medicine, a surgeon known for his mastery in the operating room and for mentoring young doctors, didn't surprise his colleagues.
"Huang had a clear view of life and death," said Zhu Ping, a cardiac doctor at Chinese PLA General Hospital and a colleague who treated Huang at the end of his life. "Unlike many other critically ill patients in the hospital, he declined expensive end-of-life support."
A member of the Chinese Academy of Engineering, Huang died on April 24 at the age of 93.
To his colleagues, Huang was a master of biliary tract surgeries, a mentor known not only for his surgical skills, but also for his personal character and uncompromising professionalism.
"Practicing medicine was not just a means for living for Huang, it was part of his life," said Lu Shichun, a close colleague. "A number of factors were behind his significant achievements, including being influenced by the traditional Chinese virtues, a family tradition for medicine and a lofty spirit for the well-being of the country."
Born to a doctor in a village in Guangdong province, Huang followed his father's career and was admitted to a medical university in Kunming, the capital of Yunnan province, in 1938. He moved about like a refugee during the next six years of study as the university kept seeking new locations for the campus to avoid the War of Resistance against Japanese Aggression (1937-1945).
Huang finally settled down in the early 1950s in Southwest China's Chongqing, where he started his rise to fame by inventing a new surgical method that significantly reduced the death rate for a type of disease caused by gallstones found in the liver's biliary tracts.
While Huang was practicing medicine in Chongqing, he found cases of the disease that were quite different from those described in the textbooks he studied at college, which were translated from foreign texts. He realized that the type he was seeing was largely indigenous to certain areas of China and that a new treatment was needed.
Back then, the disease was virtually incurable due to its complex nature and the poor surgical techniques of the time. The gallstones hid in tiny biliary tracts in the liver, a vital organ full of blood vessels that made surgery difficult and risky. Patients repeatedly suffered acute pain, shivering and high fever, and developed other complications, such as liver cancer.
Huang started his own research on the disease and finally, in 1957, years of effort bore fruit. He successfully cured a patient by removing a part of his liver, the first time such a method was used. It proved effective and is still widely used for treating the disease in China and abroad.
For his remarkable contribution, Huang won numerous national and international awards.
During 70 years of medical practice and research, Huang also mentored more than 300 students. Liu Rong, a cancer specialist and Huang's colleague, was among them.
"I was deeply influenced by Huang, by his endless pursuit of perfection in medical practice, and his compassion for all who suffer," Liu said. "He was willing to do every surgery necessary, including the most risky ones, to relieve the pain of patients."
Doctor Huang's colleague Zhu added: "Huang treated every patient with equal seriousness, whether they were high-ranking officials or common residents."
Three months after Huang died, 61-year-old Chen Yunting still feels bad about missing his funeral. A retired military officer and formerly a liver cancer patient, Chen had his liver replaced in a transplant operation at the Chinese PLA General Hospital in 2008.
The operation, one of the most complicated ever done in China, was guided by Huang, then 86 years old.
"I wish I could have seen off Doctor Huang, who has given me a new life," Chen said. "The feeling still keeps gnawing my heart."