Bitter pill for medicine-makers
Updated: 2015-06-23 09:07
By Wang Yuke(HK Edition)
| | | | | | | | | |
| --- | --- | --- | --- | --- | --- | --- | --- | --- |
|   | | Print | | Mail | | Large Medium  Small | 分享按钮 | 0 |
Up to two-thirds of the over 8,500 traditional Chinese medicine products could get phased out when a government regulation comes into effect on June 30. Wang Yuke reports.
Practitioners and manufacturers of traditional Chinese medicine fear the ancient tradition may be imperiled by tough government regulations. Effective from June 30, the regulations - aimed at preventing the sale of worthless and potentially dangerous proprietary medicines but put on hold for years - are likely to ban up to two-thirds of popular remedies now on sale, even some with proven therapeutic and remedial qualities.
The traditional Chinese medicine fraternity calls the regulations draconian.
"Customers in Hong Kong will be deprived of many options when it comes to buying proprietary medicines to treat their ailments," says Albert Wong Bak-wei, president of the Modernized Chinese Medicine International Association.
With the deadline approaching, alarm bells are ringing throughout the industry.
If large amounts of proprietary medicines comprising concoctions of herbs, minerals and animal ingredients are forced off the shelf, traditional Chinese medicine will go into decline in Hong Kong, cautions Wong.
Enforcement now requires every manufacturer of proprietary Chinese medicine to obtain a certificate of registration, costing hundreds of thousands of dollars for every proprietary product the company has on the market, as Kong Chi-hung, chairman of the Executive Committee of the Hong Kong Chinese Medicine Manufacturers United Association, regrets to point out.
"Imagine if a manufacturer has 30 medicines to register, it would set him back by about HK$3 million. It's ridiculous!" Kong explains. Manufacturers have to pay for a specialized laboratory to conduct the "safety, quality and efficacy" testing and produce a report correspondingly.
The examination is not only costly, but time-consuming - it can take as long as two years to finish.
There are 8,541 proprietary medicines currently permitted for sale in Hong Kong under temporary certificates. Only 493 of these are formally registered. In other words, only 6 percent of all proprietary medicines sold in Hong Kong have full certification.
The approval rate for products submitted for formal certification is low. In January 2012, for example, the Chinese Medicine Board received 2,890 applications. Only 188 of the products, ie, 11.7 percent, were granted certification.
Over half of the unsuccessful applicants were refused because they failed to submit required examination reports offering conclusive proof of the product's safety, quality and efficacy. The remainder of the products were rejected because, while they submitted the report in due time, they failed to meet the three standards.
In the face of the stringent requirements, Wong fears that research to improve Chinese medications will be all but abandoned. He believes Chinese medical researchers are likely to steer away. Research and development costs have become prohibitive. The high costs of getting a certification and the slim chance of approval could act as a major deterrent.
Awaiting judgment day
Proprietary Chinese medicines must have a temporary certificate of registration before they are put on sale. The manufacturers need to follow up the temporary license with an application for formal certification.
Kong Chi-hung also owns a factory, which produces three medications under his brand. His proprietary "Kong Chi Hung Detoxification Tea" has a temporary certificate. If it fails to obtain formal certification, he will have to stop selling the product.
Kong said his tea has gathered a following in Hong Kong. Many people are fond of the medicine because it can effectively relieve infections of the upper respiratory tract and ease sore throat and hoarseness.
"A considerable number of proprietary medicines have 100 years of history. They are tried and true prescriptions unique to Hong Kong. If they fail formal certification they will be barred from sale. That will have an impact not only on the Chinese medicine industry as an important cultural heritage to Hong Kong, but also on local customers who have relied on the classical medicines to stay healthy," says Kong.
Kong has submitted the examination report for the detoxifying tea, in advance of the June 30 deadline. Looking at the high failure rate, he is anxious about the outcome.
A medicine in powder form called Ryukakusan, imported from Japan, was also removed from the shelves, said Wong Ping-ming, chairman of the Hong Kong Medicine Dealers' Guild.
He told China Daily of another medicine with properties for relieving cold and flu, a best-seller product for over half a century, which might be removed from local pharmacies unless passed by the government tests.
"A third of Chinese medicines have been phased out since the government introduced the strict registration policy," Wong Ping-ming contended.
Inadequate lab facilities
Concerns about the quality of proprietary Chinese medications came to light around 1997 when the Chinese medicines committee demanded tighter regulations to prevent sale of ingredients without medicinal properties and even some potentially dangerous ones. The law took effect in 2003.
The trouble was that in Hong Kong, a city that aspires to be a hub of traditional Chinese medicine research and a hub for testing and certification, was lacking lab facilities, unable to carry out the requisite tests. The deadline was extended and extended again, until finally enforcement was set for June 30, 2015.
Unlike Western medicines, which normally contain a single chemical compound, Chinese medicine comprises multiple ingredients (20 on average). Each ingredient may contain several compounds.
"To have to isolate every ingredient is already tricky. To single out every component for examination proves even more troublesome as other components would interfere with the extraction," says Kong.
Among the 493 formally-registered Chinese medicines, nearly one out of four are herbal oils for external use. Herbal oils are more likely to be approved, thanks to their relatively simple composition, which makes examination much more manageable, Kong said.
Many other experts are skeptical of the approaches taken by local laboratories. "They deal with Chinese medicine in the same way they treat Western medicine. The composition of Chinese medicine is far removed from its Western counterparts."
"Despite the government claiming there are nine laboratories in Hong Kong available to provide testing, only three are actually capable. Most of them turn down requests, either because their staff don't have the know-how to examine Chinese medicines or because their laboratories are not equipped with state-of-the-art facilities," Kong pointed out.
He added that even though some laboratories agree to help with the examination, they leave it to the manufacturer of the medication to tell them what examination method they adopt, since their own personnel have little knowledge. The manufacturer, therefore, has to enlist help from the drug inspection institute to give directions about the examination method. The consultancy adds an extra HK$100,000 to the tab.
HK as TCM talent hub
The problem boils down to the lack of professionals having the know-how of examining Chinese medicines, concluded Leung Wing-nang, professor at the School of Chinese Medicine at the Chinese University of Hong Kong.
"The government keeps raising the standard for Chinese medicines higher and higher, but is blind to the need of cultivating enough qualified technicians to fulfill the examination job, which entails expertise," he says.
Alice Mak Mei-kuen, a lawmaker on the Legislative Council's Subcommittee on Issues Relating to the Development of Chinese Medicine, thinks the government's vision is too narrow and that it should take a broad-minded strategy to enlarge the local Chinese medicine market.
Mak said while she appreciated the government's good intentions to ensure the safe use of Chinese medicines and protecting public health, such vigilance should go hand in hand with strategies to make the Chinese medicines industry prosper.
Mak calls for the government to fill the talent shortage gap in no time. "I encourage the government to work closely with colleges and universities, which provide Chinese medicines courses to train more professional laboratory staff."
However, Professor Leung worries about employment opportunities for Chinese medicine graduates. "Take Hong Kong Baptist University as an example, their Chinese medicine department admits only 15 freshmen every year and unemployment deters more students from applying for this major in Hong Kong universities.
Contact the writer at jenny@chinadailyhk.com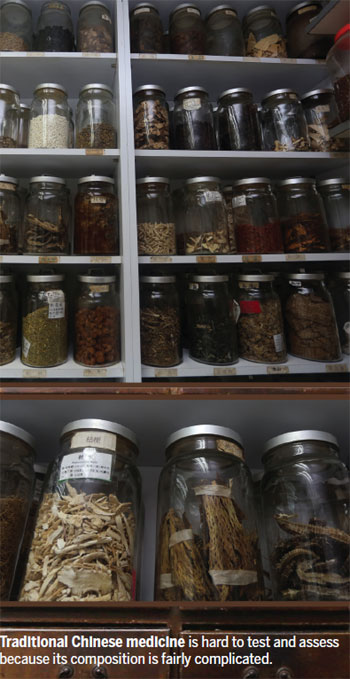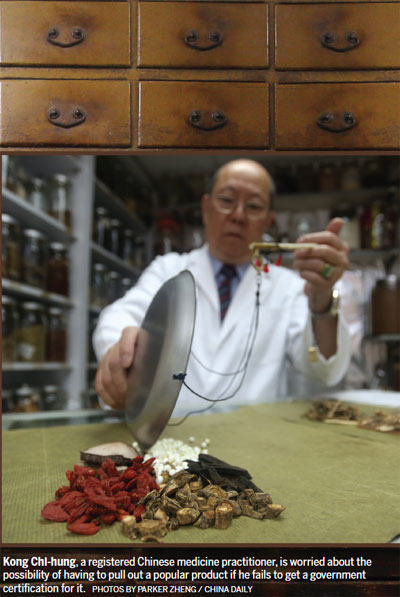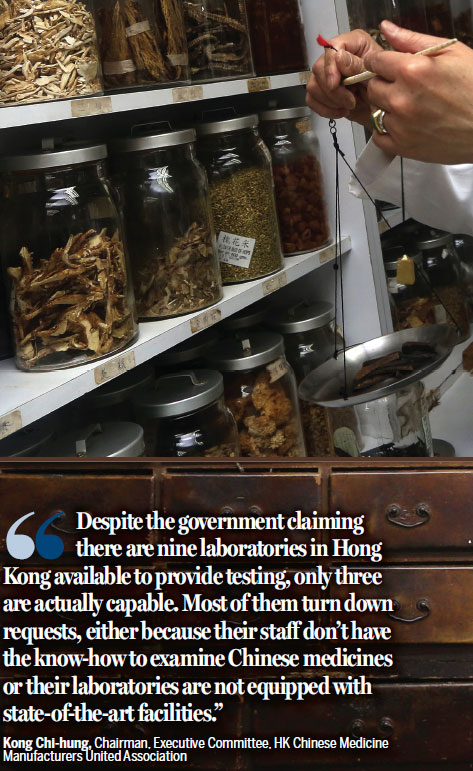 (HK Edition 06/23/2015 page6)