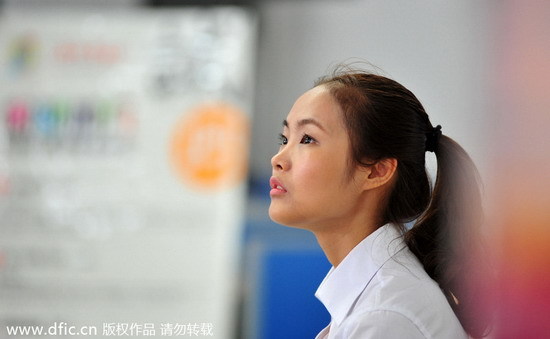 A college student looks for employment at a job fair in Anhui province, on July 9, 2014.[Photo/IC]
BEIJING -- A surprisingly large amount of Chinese employees refuse to take paid leave, a legal right for workers stipulated by Chinese law, a new survey has found.
According to a nationwide survey conducted by Ministry of Human Resources and Social Security, around 50 percent of Chinese employees choose not to take paid leave.
In a bid to find out why, the People's Daily, the flagship newspaper of the Communist Part of China, recently interviewed several employees in different employment settings in an article published Monday.
The newspaper found interviewees who work for government organs, institutions and state-owned enterprises, reluctantly give up their rights due to concerns that asking for paid leave might "leave bosses the bad impression of being lazy" and influence future job promotions.
In other jobs, such as sales, employees forego paid leave to avoid smaller bonuses, as only basic salary is given during that time.
Complicated application procedures were another reason cited.
Liu Junhai, a law professor with Renmin University of China, believes paid leave, as a right of laborers both stipulated in China's Labor Law and the Regulations of Paid Annual Leave of Employees, should be ensured by tougher law enforcement and a more encouraging attitude from both employees and employers.
In a society ruled by law, employees should be more aware of their legal rights while employers must guarantee the right of having annual paid leave in accordance with the law, said Liu in an interview with the People's Daily.
"Now law enforcement departments in Beijing and other places have launched inspections on the implementation of the system of annual leaves with pay, which is a really good start," Liu said.
Ensuring paid leave may serve as an important method for employers to attract the best talent in the job market, he said.
Paid leave is also crucial to China's ongoing economic restructuring, promoting consumption and the development of the service industry amid subdued economic growth, noted Liu.
"Besides, taking paid leave means people can travel around anytime they want, which will help with social and security problems caused by the surging tourists during holidays," said Liu.