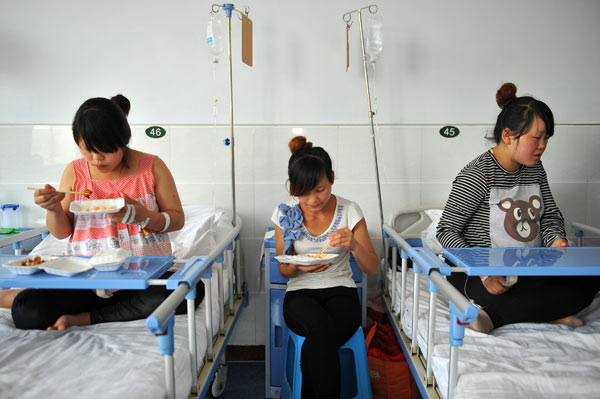 Pregnant women eat lunch at a county hospital in Fugu county, Shaanxi province. Basic medical insurance covered more than 95 percent of the Chinese population in 2011, forming the largest basic medical insurance network in the world. [Photo/Xinhua]
Medical insurance covering expenses for critical illnesses is to be expanded to include the whole country before the end of this year to help financially challenged residents.
The State Council, China's Cabinet, made the announcement after Wednesday's executive meeting.
After years of pilot programs at provincial level, a nationwide funding safety net will be put in place to help low-income residents in urban and rural areas who contract serious illnesses such as cancer, observers said.
At the meeting, presided over by Premier Li Keqiang, council members decided that insurance for urban and rural residents for major illnesses will "cover all the subscribers to the urban and rural resident basic medical insurance as of the end of 2015".
Such insurance "marks a major innovation of the ongoing medical reform", since it combines social security with commercial insurance, the State Council said in a statement after the meeting.
Liu Yongfu, head of the State Council Leading Group Office of Poverty Alleviation and Development of China, said in an interview published on Tuesday that among the more than 70 million impoverished people in the country, more than 10 million are suffering from a chronic disease or major illness.
Serious diseases that cause poverty have become a focus for China's poverty-elimination efforts, Liu said in the interview with China Economic Net.
Funds for major-illness insurance will come from urban residents' basic medical insurance and the new rural cooperative medical system.
At least 50 percent of expenses that patients previously had to pay themselves will be reimbursed by the new insurance, and "such a proportion will be gradually increased" to effectively reduce the burden on such patients, according to the State Council.
China launched a pilot medical reform on public hospitals in 17 cities in 2010, and a guideline issued in May this year stipulates the reform should cover all of the country's 6,800 public hospitals by 2017.
Wang Hongzhi, a consultant at Alliance PKU Management Consultants, said that funds for the insurance will come from existing accounts and therefore "will not be a financial burden to the beneficiaries".
The timetable unveiled is good news and has set the pace for the final stage of implementation, Wang said.
The insurance will be run by commercial insurance agencies chosen by the government through bidding.
Such agencies will be required to achieve a balanced budget and make a small profit, and the capital safety and payment capacity should be ensured, the meeting decided.
"Introducing the third-party commercial insurance as operators will bring a better inspection performance to control medical fees and prevent waste or ill-designed fees" that indicate improper benefits, Wang said.
The China Insurance Regulatory Commission said that the insurance triggered 392 programs in 27 provincial-level areas and covered a population of 700 million people by the end of last year.
In March, Li Zhong, spokesman for the Ministry of Human Resources and Social Security, said that working plans for introducing the insurance had been deployed in all areas of the country.
According to Wednesday's meeting, such an insurance system is expected to be close to perfection in 2017.
Links will also be tightened between insurance and other systems such as social assistance, "effectively averting impacting medical expenses for households", the State Council decided.
The council also decided at the meeting that random checks will be expanded by supervisory and regulatory bodies.
The council said widespread use of random checks will help eliminate casual approaches taken during administrative inspections.
Law enforcement actions will be more transparent and civilized, and market players will be more willing to follow the law.
The meeting also announced measures to boost the transformation of agricultural development, such as expanding the area of effective irrigation among farmland of medium-and low-production capacity, and ensuring scientific and technological support to agriculture.