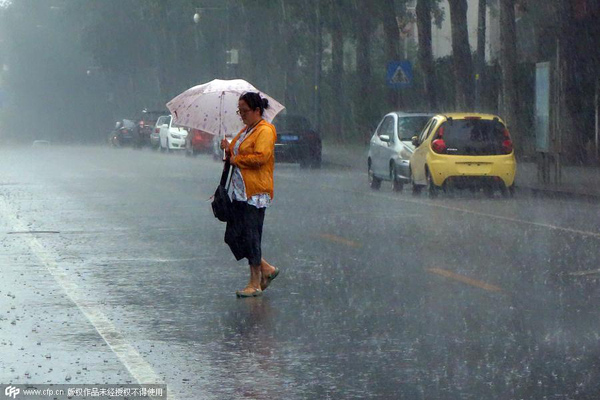 Rains lash Beijing's Haidian district on July 19. [Photo/CFP] 
Beijing has been experiencing intermittent rains since last week, resulting in flooded streets and severe traffic congestion during the rush hours. More than 1,000 people had to be evacuated from their homes in six villages in Fangshan district.
Related: China renews storm alert
China's meteorological authority on Sunday renewed a blue alert, the lowest level in a four-tier warning system, for rainstorms in a vast part of the country.
From Sunday to Monday evening, rainstorms from 100 to 180 millimeters will pelt some parts of southern China's Hainan, Guangdong, Fujian and Taiwan, the National Meteorological Center (NMC) said in a statement.
North China's Beijing and Tianjin municipalities, as well as Hebei and Shanxi provinces will hit by heavy rain and storms during the period, the NMC said.
Storms will also be seen in some parts of Yunnan, Gansu, Shaanxi, Jiangsu, Jiangxi, Zhejiang, Hunan and Sichuan provinces, it added.
The center advised local governments of affected areas to take precautions against possible waterlogging and floods brought about by the upcoming storms.
China has a four-tier color-coded warning system for severe weather, with red being the most serious, followed by orange, yellow and blue. The NMC first issued the blue alert on Saturday.