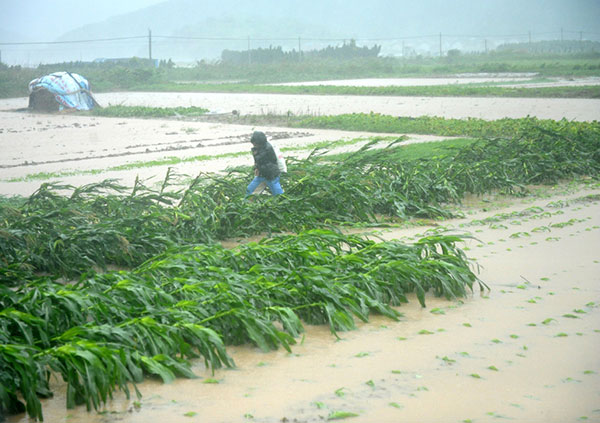 Crops are flooded after rainstorms caused by Typhoon Chan-Hom in Zhoushan of Zhejiang province July 11, 2015. The typhoon made landfall 4:40 pm on Saturday in East China's Zhejiang province. It brought rainstorms and gales to the province and neighboring regions, causing floods and disrupting traffic. [Photo/Xinhua]
HANGZHOU - One of the most powerful typhoons to strike eastern China in decades disrupted air, rail and sea transport on Saturday after forcing the evacuation of more than a million people from the provinces of Zhejiang and Jiangsu.
Typhoon Chan-Hom, the ninth typhoon this year, landed at 4:40 pm in Zhujiajian Township of Putuo District in the island city of Zhoushan, packing winds of up to 45 meters per second, according to the provincial meteorological station.
It has dumped more than 100 millimeters (4 inches) of rain since late Friday _ about a month's average in less than 24 hours, China Central Television and the Xinhua News Agency reported.
The national weather service said earlier the typhoon might be the strongest to strike China since the New China was founded in 1949. It initially was deemed a super-typhoon but was downgraded at midday Saturday to a strong typhoon and was weakening further as it moved inland.
No casualties have been reported yet by Saturday evening.
"It was so windy that the rain came in through the windows even though they were closed," Zhoushan resident Zhang Zhouqun, 53, manager of a logistics company, said in a telephone interview.
The storm felled 10-year-old trees in his neighborhood, stranded cars in 60-centimeter (2-foot) -deep water and swamped half the fields, Zhang said. Police were out barring people from trying to drive. At the urging of local officials, Zhang's family had stocked up a few days' worth of groceries, he said.