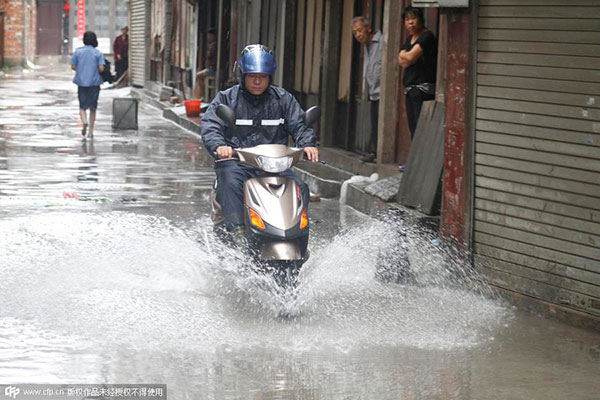 A motorcyclist makes his way along a flooded street in Taizhou, East China's Zhejiang province, July 11, 2015. The typhoon dumped rain and caused floods, blocking traffic in some streets with poor drainage systems. [Photo/CFP]
As of 3 pm Saturday, some 1.07 million people in the province had been evacuated and 29,641 ships recalled to port. The water level of 51 large and medium-sized reservoirs had exceeded the danger level.
As of Saturday morning, nine counties had recorded more than 100 mm of rain since Friday. Lai'ao Village in Sanmen County reported a record 404 mm of rainfall, according to the headquarters.
In Hepoling Village in Xiangshan County, water in a reservoir has overflowed to submerge the nearby roads after a night's torrential rain.
"The typhoon has prostrated our bamboo woods and flooded the watermelon farms," said Tang Xiongwei, party secretary of the village.
Over 600 flights were canceled on Saturday in the cities of Hangzhou, Ningbo, Wenzhou and Taizhou. More than 7,300 coaches and all passenger ships also suspended service.
Authorities in Zhejiang said the province may face 1.95 billion yuan ($314 million) in economic losses, with agriculture the worst affected, sustaining 1.44 billion yuan in losses, Xinhua said.
More than 710,000 people and 81,460 hectares of farmland have been affected, according to the provincial flood control and drought prevention headquarters.
Power supply to more than 200,000 household in 139 villages in the coastal city of Ningbo has been cut off since Friday night. More than 2,000 workers have been dispatched to repair the lines.
Several high-speed trains starting from or arriving at the cities of Hangzhou and Ningbo were also canceled on Saturday.
China Southern Airlines and Air China, the two major carriers, canceled 339 and 144 flights respectively in east China on Saturday.