Ji Baocheng, a former president of Renmin University of China, has been suspended from the Party for two years and has been put on a good-behavior notice after being investigated for misbehavior, a newspaper reported.
Ji, 70, was disciplined for violating Party rules, a phrase that generally refers to corruption, and his retirement benefits were reduced, People's Daily reported.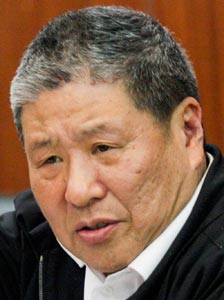 Ji Baocheng, former president of Renmin University of China. [File photo]
"The result means that if Ji has no further violation of Party discipline, or there are no new findings of misbehavior in the two years after he was put under supervision, he would keep his membership," said Ren Jianming, a professor of public administration at
Beijing
University of Aeronautics and Astronautics who researches anti-corruption and governance.
Ji was reported to have been suspected of improper behavior relating to university enrollment after a colleague was put under investigation on corruption charges in November 2013.
Cai Rongsheng, former head of the university's admissions office, was detained in Shenzhen, Guangdong province, as he attempted to travel to Canada in November 2013. He was arrested in May last year on charges of taking bribes of over 10 million yuan ($1.6 million) to help secure student enrollments at the university from 2006 to 2013, according to the top anti-graft authority.
Additionally, Hu Juan, Ji's former secretary and student, was dismissed from her post in November 2013 and her educational record and fast promotion to head of the university's education department were widely questioned.
Hu received a professorship at the university just a year after receiving her doctoral degree, and became a supervisor three years later. She was appointed the head of the university's education school in April 2011, becoming the youngest department head on record.
Zhang Keyun, a professor at the university, said Hu's performance did not qualify her for a professor and she never taught undergraduates, which was required.
Mi Chenfeng, an assistant professor at the university, said a complete academic resume for Hu was never made public because it would reveal she was unqualified.
Ji, a native of Jiangsu province, graduated from Beijing Technology and Business University at the age of 22 and received a master's degree from Renmin in 1981. He worked as a professor and provost from 1981 to 1991.
Ji was the president of Renmin from 2000 to 2011, a position at vice-ministerial level. He was also a deputy of the 10th and 11th National People's Congress.
zhang_yi@chinadaily.com.cn