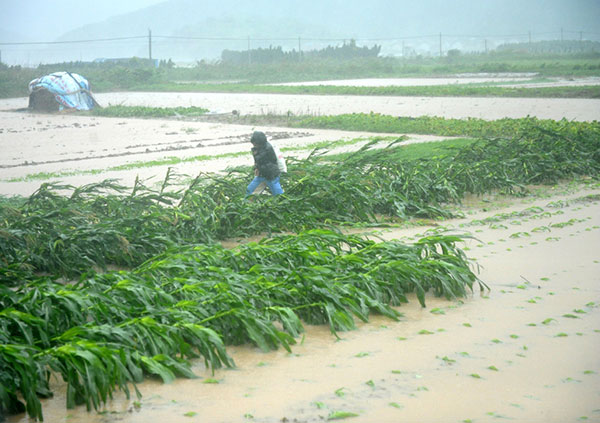 Crops are flooded after rainstorms caused by Typhoon Chan-Hom in Zhoushan of Zhejiang province July 11, 2015. The typhoon made landfall 4:40 pm on Saturday in East China's Zhejiang province. It brought rainstorms and gales to the province and neighboring regions, causing floods and disrupting traffic. [Photo/Xinhua]
BEIJING - China's meteorological authority on Sunday downgraded the alert for Typhoon Chan-Hom from red to orange as it is set to weaken on its way to move northeast.
As of 5:00 am Sunday, Chan-Hom was located at the northern area of the east China sea, packing winds of up to 35 meters per second, according to the National Meteorological Center (NMC).
The center forecast the typhoon to move northeast at a speed of 30 kilometers per hour to reach the Yellow sea. Its forces will gradually weaken along the way.
From Sunday to Monday, the provinces of Shandong, Liaoning, Jilin and Heilongjiang will be hit by rainstorms, while strong gales of up to level 13 is forecast in the Yellow sea, prompting the NMC to issue a blue rainstorm alert.
China has a four-tier color-coded weather warning system, with red representing the most severe weather, followed by orange, yellow and blue.
So far, no casualties have been reported.
Chan-Hom, the ninth typhoon this year, landed at 4:40 pm Saturday in Zhujiajian Township of Putuo District in the island city of Zhoushan, packing winds of up to 45 meters per second, according to the provincial meteorological station.
It disrupted air, rail and sea transport on  after forcing the evacuation of more than a million people from the provinces of Zhejiang and Jiangsu. It affected more than 710,000 people and 81,460 hectares of farmland, according to the provincial flood control and drought prevention headquarters.
It has dumped more than 100 millimeters (4 inches) of rain since late Friday _ about a month's average in less than 24 hours, China Central Television and the Xinhua News Agency reported.
The national weather service said earlier the typhoon might be the strongest to strike China since the New China was founded in 1949. It initially was deemed a super-typhoon but was downgraded at midday Saturday to a strong typhoon and was weakening further as it moved inland.
As of 3 pm Saturday, some 1.07 million people in Zhejiang province had been evacuated and 29,641 ships recalled to port. The water level of 51 large and medium-sized reservoirs had exceeded the danger level.
In neighboring Jiangsu Province, more than 78,900 people have been evacuated and 22,423 ships recalled to port. Many flights were canceled out of Nantong and Nanjing.
Shanghai has also evacuated 163,000 people and called back 3,000 ships to harbor as the city experienced rainstorms and strong gales on Saturday, the city's flood control authority said.
Earlier, Chan-hom caused 20 injuries as it moved over islands in southern Japan, Kyodo news agency reported.
The storm dumped rain on the northern Philippines and China's Taiwan, where several flights were suspended. The stock market and public offices were closed Friday in Taipei.
Chan-hom is the second major storm to hit China this week, after Typhoon Linfa forced 56,000 people from their homes in the southern province of Guangdong province.
Typhoons are common at this time of year in the South China Sea, picking up strength from warm waters before dissipating over land.
Earlier this week, typhoon Linfa moved slowly across the north of the Southeast Asian archipelago and up to China's southern province of Guangdong.
Related: Typhoon pounds China with heavy rains; 1.1 million evacuated