Report: His only companions were pigs his father kept behind house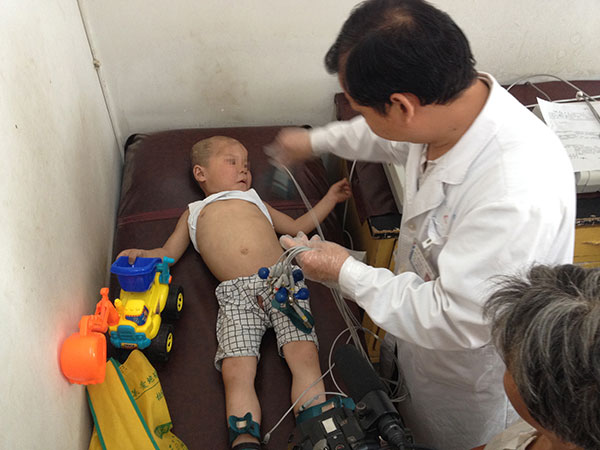 Hongbo receives a complete physical and mental examination in Puyang, Henan province, on Tuesday. Zhang Di / for China Daily
A 7-year-old boy who was neglected and abused in Henan province is receiving attention and assistance from people across the country.
Hongbo can barely speak a word for lack of a proper family environment and education.
On Tuesday, he received a complete physical and mental examination by experts from Dakang Training Center, a facility for children in Zhengzhou. The exam, which lasted about an hour, focused on Hongbo's language ability and mental development.
The boy, whose real name is being withheld because of his age and circumstances, was uncooperative at first. But he gradually calmed down and smiled as he tried to imitate others.
On Monday, a report carried by Puyang Morning Daily newspaper told the story of Hongbo's tragic life, which instantly grabbed national attention.
Hongbo is from Qingfeng county in Henan province. His family is too poor to send him to school, and his mentally ill mother frequently abused him, the report said. He had no friends, no decent food and nobody to properly care for him. His only companions were the pigs kept by his father.
According to the report, Hongbo spent virtually every day playing in the hog pen behind his ramshackle home. His father, surnamed Liu, makes a living by collecting waste during the day and carrying passengers on his tricycle at night.
"Liu returns home late at night and goes back to work early in the morning," the newspaper reported.
Pictures of Hongbo sitting on the ground with disheveled hair and a dirty face went viral on Sina Weibo, evoking widespread anger and sympathy. Volunteers with the local Puyang Love Association came to help Hongbo after hearing of his story, bringing food and helping him shave his head.
"When we finished shaving Hongbo's long hair, we found scars on his head," said a local volunteer, surnamed Zhang.
"It just broke my heart. He is a lovable kid. What has he done to deserve this?" Zhang said.
Local villagers said the scars are a result of abuse from Hongbo's mother, who they said is mentally ill, according to the report. She was often seen grabbing his head and hitting him against a wall, and she kept the boy confined to their yard at all times, the report said.
"We would interfere, but she just does not listen to us," a villager was quoted as saying.
Hongbo's father told local media that the family is extremely poor, and that his family members - his mother, his wife and Hongbo - all depend on his meager earnings.
"We need at least 300 yuan ($48) to pay electricity and other expenses each month, which is too much to afford," Liu said.
Attention and help
A post about Hongbo's situation online has been forwarded thousands of times, drawing a large number of comments critical of the government and the parents.
"Hongbo probably does not know what cruelty is, yet the world is too cruel to him," a netizen said in an online comment. Others say that poverty is at the root of the tragedy.
Having learned of the situation, the local government said it will take immediate steps to take care of Hongbo.
The volunteers who brought the experts to examine the boy promised to visit Hongbo regularly in the future and will take him to Zhengzhou for free treatment after gaining permission from his family. They hope the boy can learn to speak and grow up as other children.
Zhang Gui'e, director of the Dakang center, who examined Hongbo, said the boy has the height and intelligence of a 2- or 3-year-old.
"The poor boy couldn't speak, and he behaved manically and was unable to get along with children around his age," said Zhang, who has worked in children's special education for 20 years. "His situation is closely connected with the living environment where he is growing up, which is not favorable for his growth."
Zhang said the center offered to take Hongbo to Zhengzhou for treatment, but hadn't received approval from the boy's relatives.
"We hope to conduct treatment and training on him as soon as possible, because as the boy grows older it will become increasingly difficult to reverse the situation," she said. "We are trying our best to negotiate with his relatives."