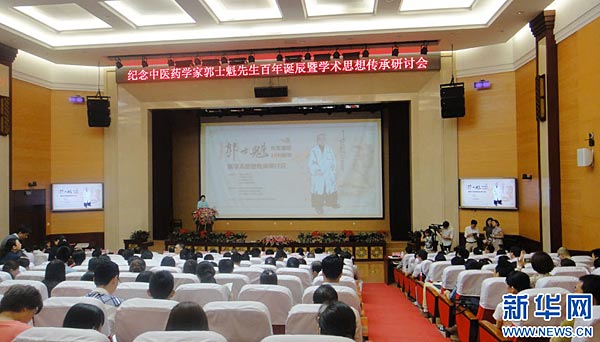 Delgates attend the seminar marking the 100th birthday of Guo Shikui at the Beijing University of Chinese Medicine, June 27, 2015. [Photo/Xinhua]
A seminar marking the 100th anniversary of the birth of Chinese cardiovascular doctor, pharmacological inventor and preeminent medical scientist Guo Shikui was held in Beijing on June 27, 2015.
Co-hosted by the Beijing University of Chinese Medicine, China Academy of Chinese Medical Sciences, China Association of Chinese Medicine, and the Beijing Municipal Bureau of Chinese Medicine, the seminar focused on the inheritance, development and innovation of Traditional Chinese Medicine (TCM) while recalling and honoring the contributions Dr. Guo made to it.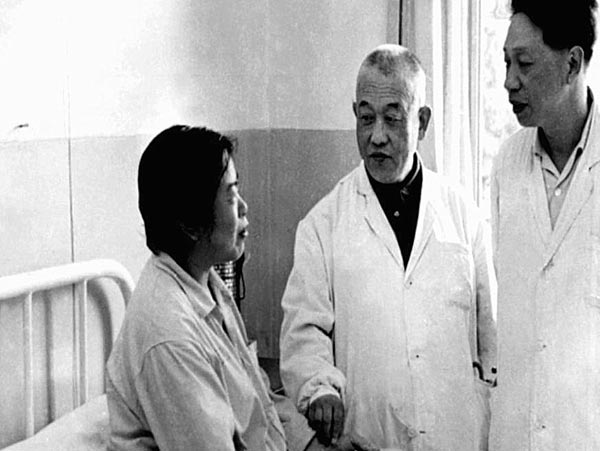 Chinese medical expert and cardiovascular doctor Guo Shikui, center, feels the pulse and diagnoses for a patient in this screen shot from a video. [Provided to chinadaily.com.cn]
Born in 1915 in Beijing, Dr. Guo began a TCM career at an early age and worked for coronary heart patients and the TCM cause for more than 50 years.
He worked as a cardiovascular doctor, specializing in treating the heart and blood diseases by using TCM to warm the meridian and promote blood circulation in a bid to dissipate blood stasis (also known as stagnation) and relieve angina.
He invented and patented several Chinese medicines that can effectively care coronary heart disease including GuanxinⅡ, Kuanxiong Pills and Kuangxiong Aerosol, which turned out to be a major breakthrough and a huge contribution worldwide in treating coronary heart disease. Dr. Guo won several major national awards for the patented medicines in 1978 and was honored as a "National Model Worker" in 1980.
Dr. Guo was recognized as a founder and pioneer in treating coronary heart disease who established a set of complete theories to prevent and cure the disease, combining methods of TCM and western medicine. He was also the forerunner in recognizing TCM as a science and the trailblazer to modernize the study of TCM.