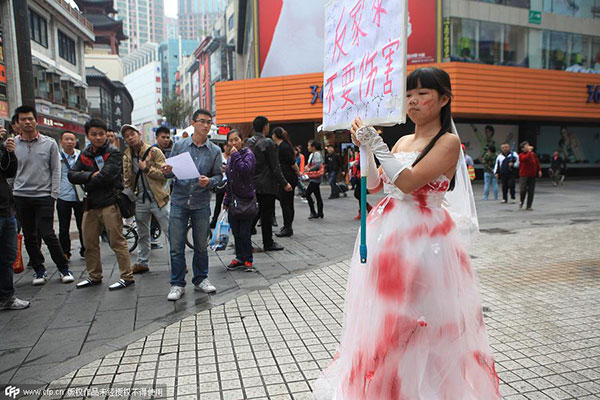 Wearing a wedding dress which appears tainted with blood and holding a board which reads in Chinese "No domestic violence, no harm", a woman calls for end to domestic violence in Shenzhen, Dec 10, 2014. [Photo/CFP]
China's judicial authorities are to join the fight against domestic violence, a top justice official said, China News Service reported.
Huang Ermei, vice president of the Supreme People's Court (SPC), attended the the launch of a pilot scheme on Tuesday covering work on anti-domestic violence joint-action at Nanning intermediate court in Southwest China's Guangxi Zhuang autonomous region.
He said the SPC had brought domestic violence cases, suspected of breaking criminal laws, under judicial procedure.
According to Huang, domestic violence occurs in 24.7 percent of Chinese families. Most victims are women, children and the elderly and about 10 percent of youth criminals come from such families.
He added that to Chinese people domestic violence is regarded as a private matter and such cases are largely hidden. Victims call police only after suffering 35 times on average. The number of cases is far greater than those reported.
Huang said domestic violence tends to be repeated and worsens, generating hatred among young victims or witnesses, who might in turn become abusers.
China released the first guidelines on how to deal with domestic violence-related criminal cases on March 2. More than one month later, Li Yan, who was at the center of a high-profile domestic violence case and sentenced to death after being convicted of murdering her abusive husband received a two-year reprieve.    
Anti-domestic violence joint-action is another measure.
Ten pilot courts have been appointed to refine procedures in cases of domestic violence, covering evidence gathering, potential penalties and creating a system to better protect victims, said Zhou Teng, president of Nanning intermediate court.
Nanning will also offer legal assistance and education to victims and family members by teaming with the police, procuratorate and other governmental organs.
"The new law is expected to build a government-led, multi-institutional cooperated macro mechanism and a zero-tolerance attitude towards domestic violence," said Huang.
Domestic violence cases have increasing been revealed by media in recent years. In June, four left-behind siblings, all minors, were found dead at their village home in Bijie, Southwest China's Guizhou province. The four, a 13-year-old boy and three younger sisters (the youngest just 5) lived alone and reportedly suffered serious domestic violence, with the boy once being beaten by his father and suffering a fractured arm.
In March, photos of suspected lash marks on a child's back, arms and legs went viral online. The 9-year-old boy was allegedly abused by his adoptive mother, who is the cousin of the boy's natural mother.