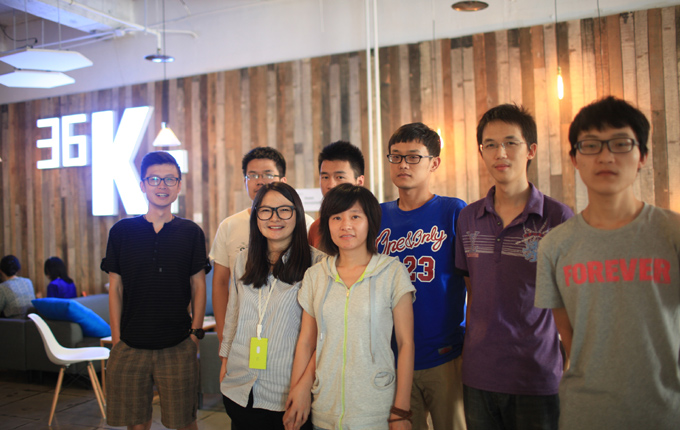 Some leaders of the 12 teams incubated at Space 36Kr between May and August last year. Eleven teams secured their first investment at Space 36Kr, totaling 50 million yuan. Photo provided to chinadaily.com.cn.
Liu Junyan, or Jervis Liu, founder of Easemob, graduated last August, before receiving two rounds of investments amounting to nearly $7 million. The core members of his team, including himself, are four senior engineers who resigned from Nokia, Polycom and Redhat, the world's leading provider of open source solutions.
They designed a tool that adds instant messaging to apps and enables apps to have built-in customer service. It was hailed by app developers who said that with it they can easily make apps social without programming a social networking function from scratch. A year after it was launched, 23,000 companies have used the tool in various kinds of apps, ranging from telecommunications, e-commerce, to financing.
"According to our information, this is the first product of its type in the world," said Tang Huan, public relations chief of Easymob.
Zhang Mo, a programmer who once worked with Microsoft Research and IBM, graduated from 36Kr too. She designed dress-plus.com, a website that uses advanced image recognition and deep-learning techniques. Users can take a picture of a dress or upload an image, and the website finds similar dresses from a growing database covering more than 150 online marketplace, including Amazon, Tmall, Farfetch and Heels.
"Being professional, the elites are more likely to survive fierce competition, and build something that has huge impact," said Zheng.
On March, 36Kr launched an online platform that connects startup companies and angel investors across the country. So far, more than 300 qualified investors and 22,000 startup companies have subscribed and 50 investments totaling 200 million yuan have been made.
Now, 36kr is planning to raise capital in new ways to fuel burgeoning IT innovation. Its new online equity crowd funding platform Next allows people with either 300,000 yuan annual salary or one million yuan in financial deposits, to invest in start-up companies.
"Some fast-expanding startups offer original shares, which effectively ensure low risk and high return to buyers. The platform is where ideas meet capital, and crowd funding for business starters is the trend, " said Liu Chengcheng, 36Kr CEO.