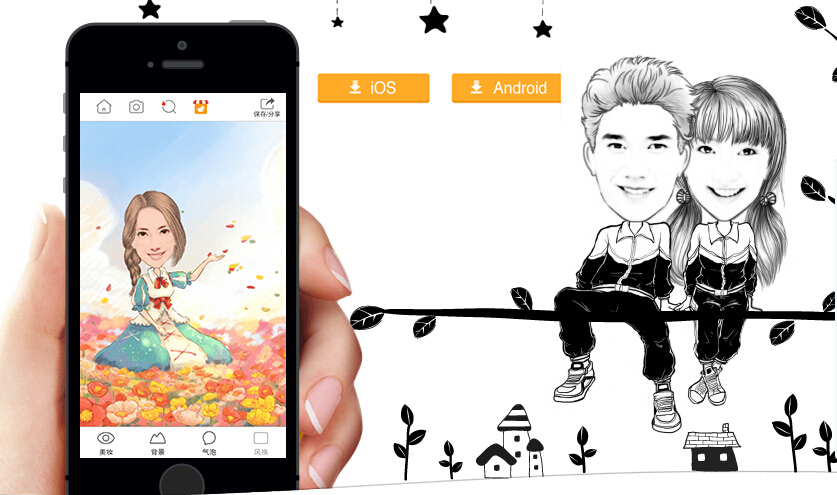 A screen grab from the MomentCam's official website. The app allows users to create customized cartoons and GIF.
MomentCam might be one of the most successful products generated in Cheku. The app has been downloaded more than 200 million times globally and was crowned by Facebook as winner of its FB Start competition, a contest that sought to identify the best apps in the world.
A large number of people working in Cheku are technicians from traditional manufacturing industries who are transforming traditional wares into smart ones. Some target the niche market of smart home devices, with a competitive edge in projects too small to appeal to big tech companies.
Hu Liangcai, an electromechanical professional for 12 years from East China's Jiangxi, came to Cheku last year with a plan to make a water-filled heater that can be connected to Wi-Fi and operated by mobile phone via an app. Although knowing nothing about how to connect his heaters to the Internet, Hu met some computer engineers and tech fans who helped him select multi-chip modules and create the app.
The cafe put Hu in touch with many free services, including the Smart Cloud, cloud computing support from JD, one of China's top brands and largest e-tailer. The service usually costs individual users 50,000 yuan a year.
Naturally, at the other end of the spectrum, Internet specialists are also grabbing a slice of the start-up pie through more exclusive incubators. Most of these more "elite" innovators are middle- or high-level employees at China's leading Internet firms who have quit their jobs to try their luck in their own ventures.
Such innovators are seen as technology experts, and can attract a powerful team from within their networks. What they lack are capital and knowledge of starting a company, and this is where a different kind of makerspace comes in.