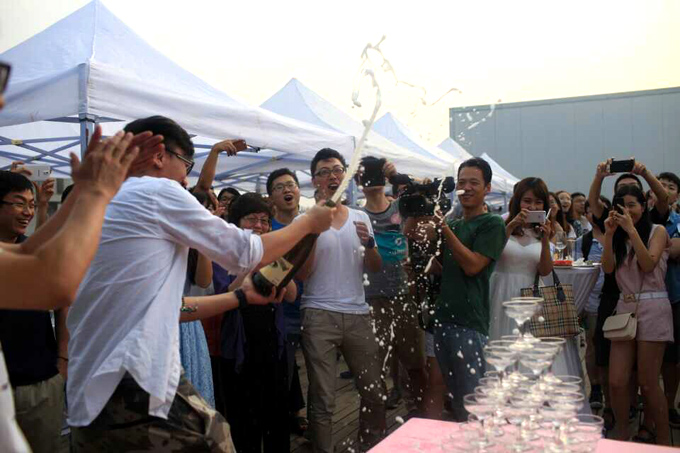 The twelve teams incubated at Space 36Kr between May and August last year celebrate their "graduation". Eleven teams secured their first investment at Space 36Kr, totaling 50 million yuan. Photo provided to chinadaily.com.cn.
3W Coffee in Beijing, which Chinese Premier Li Keqiang visited in May in a gesture of government support for startups, and Innovation Works by Kai-Fu Lee, the founding president of Google China and Binggo Café are examples of investment-oriented, professional incubators.
Beijing-based Space 36Kr incubator labels itself as the place to get much-needed startup financing. 36Kr was established in 2011 as a media firm focused on financial news. In April 2014, it opened Space 36Kr incubator.
36Kr has a strict screening system. A panel of five to seven professional investors and IT business insiders choose 10-30 teams to incubate, usually from 1,000 applicants. Once selected, teams can work for free for three months and get entrepreneurship training. At the end of the incubation period, which they call "graduation", a meeting is arranged with top Chinese investors, including IDG, Sequoia Capital China and Matrix Partners China.
Out of the 42 teams to have "graduated", 40 have received seed funding, 300 million yuan in total, or 7.5 million per team. Six got two rounds of investments. Among the two that did not secure investment, one was acquired while the other achieved self-financing.
"More than half of the 42 projects are launched by people who have quit big companies such as Alibaba, Tencent Holdings Ltd., Baidu Inc., Facebook and Google,"said Zheng Wangyu, a Space 36Kr manager and member of the "screening" team.