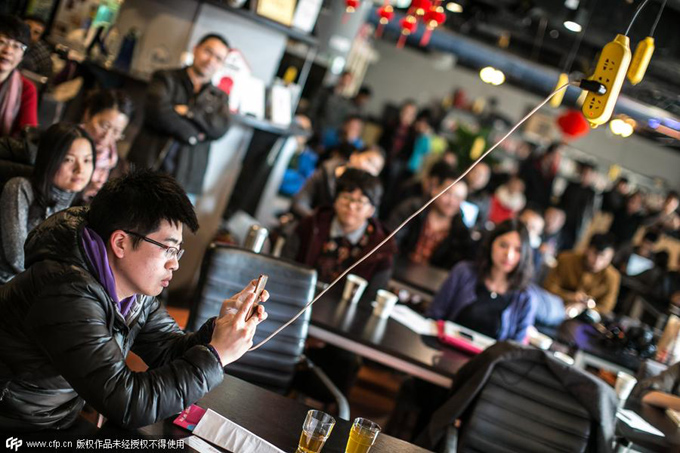 The 800 square-meter space of Cheku is filled with business starters.  [Photo / CFP]
Assistance in company registration, bank loans, inexpensive online services, such as cloud storage and patent information are also provided by Cheku managers. But most Cheku-ers say they love the place because it attracts a circle of like-minded people who can help pool resources.

Makerspaces, or hackerplaces, have been part of the global entrepreneurship scene for a while. They can be traced to Berlin where, in 1995, a group of young programmers pooled ideas and began sharing a workshop space. Over the past four years, the movement has gained ground in China, too, with philanthropic entrepreneurs or companies eyeing the startup market establishing spaces to help startups.
There are at least 130 makerspaces in China clustered in Beijing, Shenzhen and Shanghai but also in a wide swath of second tier, inland cities.
As one of the earliest and most successful makerspaces in Beijing, Cheku's business model has been copied in other cities. Nanjing-based 321 Chuangzhi Cafe, Beehive Cafe in Dongguan, South China's Guangdong are all of this type with a focus on forming an open community.
"Cheku is where you find your partner," said co-founder Liu Hui. "It's like forming a band. You have a singer, a drummer and need a guitarist. This is where you find one. "
Ren Xiaoqian, a designer, and programmer Huang Guangming, started working at Cheku when it was first established. It was there that they met their future investor, founder and president of Zendai Group, who also offered business advice. They finally came up with a new type of mobile Internet product called MomentCam, which allows users to easily create and share customized, animated caricatures of people.