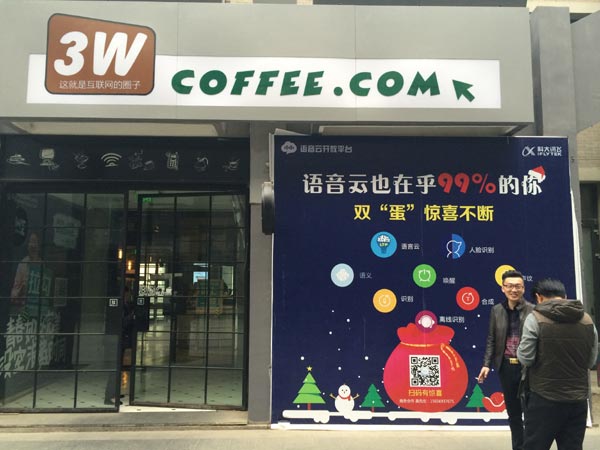 Two people talk in front of 3W Coffee in Zhongguancun, Beijing. It is possible to sit in the shop for a whole day by just ordering a 19-yuan espresso and enjoy its free Wifi service. [Photo/China Daily]
Beijing boasts affordable and cozy workplace for grassroots starters
3W Coffee does not serve any better-flavored beverages than most other coffee shops in China. But every day, a few hundred young people gather in groups at this three-story shop in northwestern Beijing for hours-sometimes the entire day-to discuss ideas that they believe will make them the next Steve Jobs.
At noon on an early spring day, the temperature in Beijing was still less than 10 C and gusty winds swept the doorway of 3W Coffee. The cold spell and the Beijing smog were keeping people off the streets, but the rustle in the air was unable to overwhelm the bustle inside the shop. Most of the tables will be taken by lunchtime, and no one seemed in a hurry to leave after finishing their drink.
It is possible to sit in the shop for a whole day by just ordering a 19-yuan espresso. The Wi-Fi is free and early comers will get a chance to pick a table near the window. It is a very affordable and cozy workplace for grassroots entrepreneurs.
Wang Jian, 29, is a frequent customer at 3W. He and three friends are planning to put online a mobile application that helps users track their daily expenses.
"No one knows which one of us will become the next Steve Jobs, we are not even sure that this can happen. But why not take a chance," Wang said. He still works for a tech company in Beijing, but said because many of his colleagues setting up their own startup, and he also wants to take a shot at it in his spare time.
Wang said being surrounded by fellow entrepreneurs made him more eager for success. Referring to the light bittersweet flavors of the deep-roasted coffee beans, he said this is the smell of entrepreneurship for him. "The people showing up at the cafe are those who have dreams," Wang said.
A few kilometers north of where Wang is seeking success, another group of hopefuls are seeing some of their dreams come true.
Zhao Yong, co-founder and chief technology officer of visual understanding company DeepGlint, is working to let computers understand the images they see and respond to different visual content. Before putting together this small startup to develop this quite futuristic technology, Zhao was a part of the seven-people team at Google Inc that designed the Google Glass.
In 2013, Zhao decided to return to China and establish a tech firm focusing on computer visual understanding research.
"Many people told me what I was doing at DeepGlint was creating cutting-edge artificial intelligence technology. But for me, we are at very early stage of the process and today's AI is far less smart than the public thinks it is," Zhao said.
He added the engineers at DeepGlint, many of whom are from prestigious institutions such as Princeton University, are working on a three-dimensional security surveillance system and an auto-driving system that can put into commercial use some day.
Although the high cost of housing and labor costs are driving many entrepreneurs out of Beijing, the city remains the most vibrant breeding ground for software startups.
Nearly 40 percent of the top 500 mobile applications were developed in Beijing last year, according to a study by Internet company Qihoo 360 Technologies Co Ltd.
Beijing, Shanghai and Shenzhen have their respective advantages to attract tech startup. Beijing provides the perfect kick-off resources for entrepreneurs; Shanghai gives startups the best finance services; Shenzhen, the world's capital for hardware manufacturing, is the best place to test the integration of software and devices.
Back at 3W Coffee, Wang was satisfied with the process he and his team have made on the personal accountant app. He said the product will be ready to launch by June and if the reviews were positive he would start developing the 2.0 version of the app that has more features that require an in-app purchase.
"Hopefully I will be able to quit my job and become a fulltime entrepreneur later this year," Wang said.