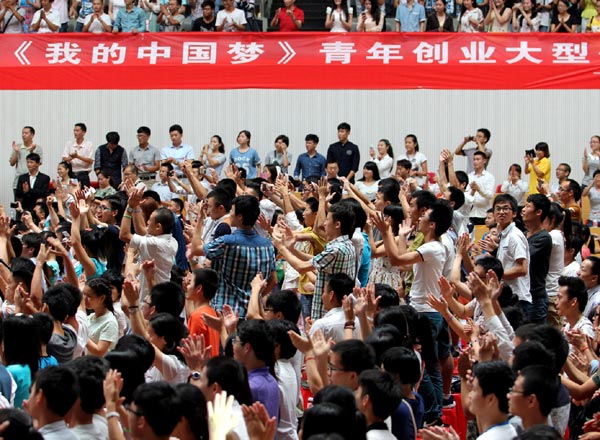 Students are keen to have a chance to speak by raising their hands during a lecture on entrepreneurship at the Central China Normal University in Wuhan, Hubei province. [Photo/China Daily]
Young people look to cyberspace to weave innovative dreams
The success of e-commerce giant Alibaba Group Holding Ltd, and the rise of its two biggest rivals Tencent Holdings Ltd and Baidu Inc, have given hope to many young people that they may realize their dreams in cyberspace.
Zhang Xiangxiang, 25, is one of these young people. As a new starter in the Internet industry, he had nearly zero experience or knowledge in this highly technical industry. He was once a fashion buyer before he decided to set up his own technology company last December.
With a master's degree in fashion management from the University of Southampton in the United Kingdom, Zhang had planned to become a fashion buyer once he was back in China. But when he later learned from his peers that there would be little room for career development if he worked as a fashion buyer or a product manager with a leading garment company, he soon gave up the job and embarked on his own company specializing in the development of augmented reality, which refers to the technology when virtual graphics and/or data are overlaid onto real objects.
One of the major products that Zhang's company will be producing is something similar to the popular Google Glass, which is sold at $1,500. Zhang and his team hope to develop a similar product with a much lower price at $300 or $400 each, to be sold mainly to corporate clients.
He has also planned the part of business which faces the mass market. For this part, he would like to work with the so-called geeks in China and try to explore the application or software market of the augmented reality technology, which is quite underdeveloped in China. With these two major businesses combined, Zhang's company, Join Technology Co Ltd, is aimed at becoming a total solution provider of augmented reality technology, which is a relatively new concept in China.
Zhang has clearly defined objectives for his company.
First, it should get angel investment by the end of this year. By mid-2016, the company should start sales of its products through crowdfunding. Within three years, it should be able to make ends meet.
As a layman in the sophisticated technology industry, he has been working with two other partners to ensure the success of the company. One of the partners, who is now the company's technology director, used to be work as a 3D technology specialist with a leading multinational firm. The other partner is from a French augmented reality company, which is working with Join Technology in China.