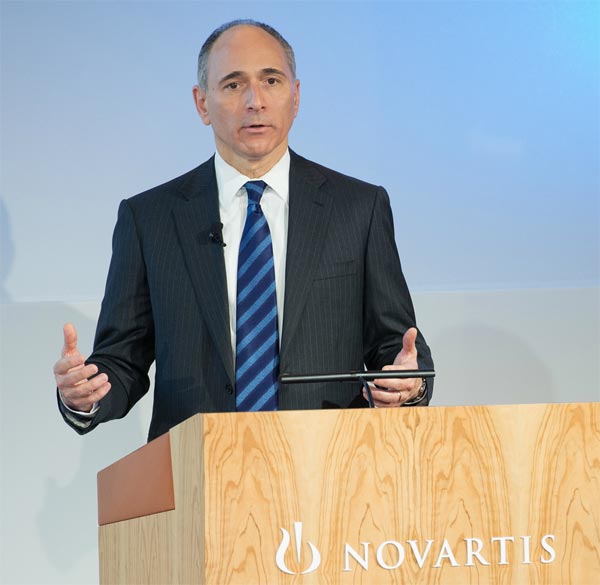 Joseph Jimenez, chief executive officer of Novartis AG. [Photo/China Daily]
Novartis expects China to play key role in its global development plans and drug research program
For Joseph Jimenez, chief executive officer of Novartis AG, making a visit to China is an opportunity to seek ways to participate in the country's ongoing economic transition and shape the multinational pharmaceutical corporation's future strategy.
China is contributing an increasing share to Novartis' global business. "Five years ago, China was in the top 20. Now it is in the top 10, and in five years, it is going to be in the top three," Jimenez said.
In particular, Jimenez said, the Novartis Shanghai research and development center, officially named as Novartis Institutes for BioMedical Research (China), which is to complete the first phase of its construction later this year, will serve as a perfect meeting point of the company's global vision and China's pledge of a consistent open policy in its economic transition.
The focus of the R&D facility is precisely innovation, and it will help bring innovation to the whole economy. It will have international staff members, but the majority will be Chinese. "We are training many of China's national medical scientists and they are not expats," Jimenez said.
Apart from focus on innovation, there is also a focus on the quality of life, and the objective is to improve healthcare for Chinese citizens and their overall level of well-being. Some drugs that will be developed by the Shanghai labs are designed to meet the more widespread demand in transitional societies like China, or countries that have met their basic health needs and are moving toward the demand pattern of the more developed economies.
In China, for instance, drugs for such prevalent chronic conditions as hepatitis B and gastric cancer will remain in high demand for some years to come.