Instead of being too obsessed with the number of consoles sold so far, Xbox boss Phil Spencer insists the best way to boost sales is to focus on delivering great games to Chinese gamers.
The good news for many console players is that the company's biggest franchise Halo video games will be coming to Xbox One in China on Aug 13, which Spencer considers as a milestone. He is also hoping to bring its next biggest franchise Minecraft into China soon.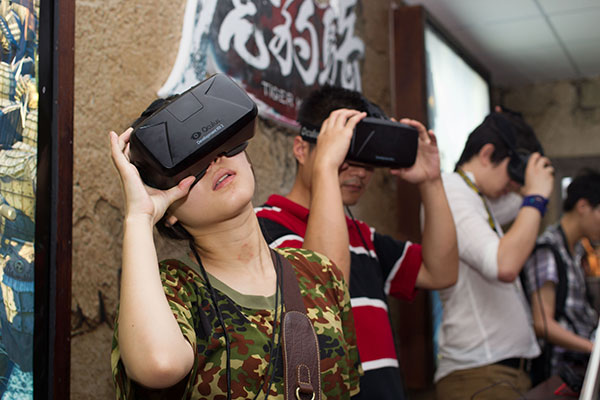 Visitors to the ChinaJoy 2015 expo check out the wearable gaming gadgets in Shanghai. [Photo/China Daily]
Tencent Holdings Ltd has already said it will be offering Infinity Blade on Xbox in China.
In fact many of the games on show on Xbox's stand during the ongoing ChinaJoy games expo in Shanghai will be available in China by the end of the year, said Spencer.
"As our game portfolio strengthens, so will the sales of Xbox consoles in China. The rest of this year will be great for games on Xbox (a company owned by Microsoft Corp)."
As well as highlighting its Western games on offer here, Spencer was also at pains to add that great efforts are being made to make Chinese-made games available too on Xbox, and said having local games that are culturally relevant to local gamers is critical to its long-term success here.
ChinaJoy is Spencer's second visit to China, and he said one of his most important missions during the exhibition will be talking to Chinese publishers and developers.
His goal is not just to make Chinese games available here, but also to help them achieve worldwide success, "and there are great partnership opportunities for us here".
"There are many gamers in China. Meeting with independent developers, I have come to know that people here have grown up playing games. It's who they are. They understand what makes a good game.
"I predict that we will see in the next couple of years a global hit that is created in China, and I want Xbox and Windows to provide the platforms to reach a global audience."
Xbox physically set up in China nine months ago in a trial started in the China (Shanghai) Pilot Free Trade Zone, where it was later joined by its long-time rival, Sony's PlayStation 4.
According to market consultancy IDC, the two companies have sold around 300,000 consoles until now.
"We are still beginning here and if we started to judge our success in China on the first nine months, that would be too short for anybody to assess if we had built our market or made all the right moves," he said.
What's more, Spencer seems not at all perplexed by what some consider the excessive time involved in approving new games or equipment created in China by the supervisory bodies, a hot debate among industry insiders.
Quite the contrary, he insisted he has found dealing with the authorities a smooth process with officials fully understanding the issues facing the industry. "After all, they are new to dealing with console approvals," he said.