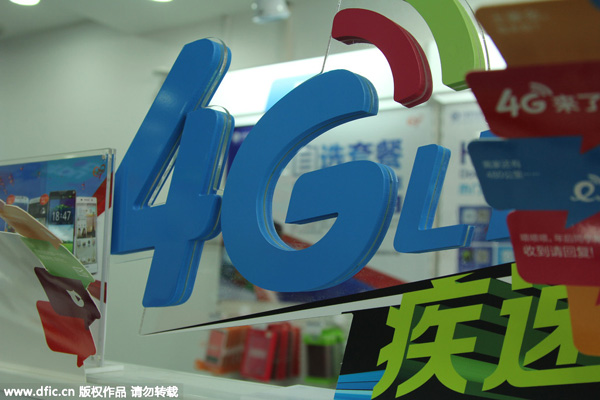 A signboard of 4G is seen at a branch of China Mobile in Shanghai, China, Dec 28, 2013. [Photo/IC]
BEIJING - 4G users in the world's second largest economy continued to surge and charges for the telecom service are expected to fall in the future, official data showed on Tuesday.
4G clients in China added about 60 million in the first quarter, including 23.88 million in March, to 162 million, according to statistics from the Ministry of Industry and Information Technology (MIIT).
Wen Ku, an MIIT official in charge of telecommunications, expects the country's total 4G users to reach 250 million by the end of the year.
This was a big surge, as the number of 4G users stood at 90 million by the end of December in 2014, just a year after the MIIT licensed China Mobile, China Telecom and China Unicom to operate 4G services.
Telecom charges in China have continued declining in recent years, but have yet to reach a level "satisfying to clients," said Wen, citing inadequate market supply as the main reason.
Investment in 4G has yet to make full returns and there is still big room for cost cutting, Wen added.
Wired broadband users rose 4.2 percent year on year to 204 million, and mobile broadband users reached 640 million by the end of the first quarter this year, according to the MIIT data.
By the end of March, China has 1.29 billion mobile phone subscriptions, up 3.6 percent year on year.
The improving 4G and Internet infrastructure has been a boon to a total of China's 74 listed Internet firms, whose aggregate market capitalization has reached 4 trillion yuan ($644.8 billion), official data showed.