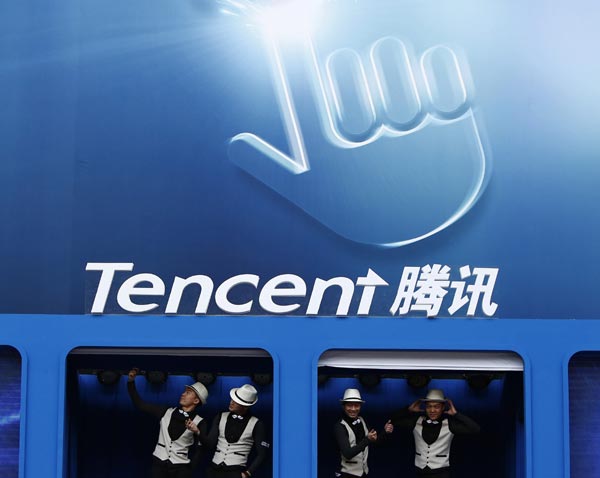 Dancers perform under a logo of Tencent Holdings Ltd at the Global Mobile Internet Conference in Beijing, May 6, 2014. [Photo/Agencies]
SHENZHEN - Chinese internet giant Tencent has reported progress garnering government support for facial recognition technology to be used for banking services.
Tenpay, a Tencent subsidiary for payments, announced a cooperative partnership with the National Citizen Identity Information Center under China's Ministry of Public Security on Monday.
The arrangement will allow Tencent to work with police to improve the accuracy of facial recognition technology so customers won't need to visit a bank for verification purposes, the firm said.
At the CeBIT technology fair held last month in Hanover, Germany, Chinese e-commerce giant Alibaba's founder Jack Ma also offered a glimpse into how facial recognition could be used to make payments on smartphones.
But analysts say the technology still faces hurdles before it can be commercially viable.
Tencent's WeBank, which opened for business in January and does not have any physical outlets, still faces challenges in bringing its banking business online and has yet to help customers' avoid a visit to a physical bank for verification.
Chen Xiao, a senior executive at WeBank, said the lender is slated to offer its first loan service this month and will launch wealth management and payment services in May.
China's central bank is currently soliciting opinions on a draft rule that would allow people to open bank accounts remotely, a sign that regulators are accommodating changes brought about by the internet to the traditional banking sector long dominated by state lenders.