Student-entrepreneurs ready for combat
A competition aimed at encouraging innovative business proposals for mobile-based and other Internet start-ups has been launched by IDG Capital Partners.
The 2015 IDG China-US Campus Venture Contest is open to all undergraduates and graduate students in China and the United States. Contestants have from February 1 to August 15 to hand in their proposals.
Only International Education is co-organizing the event.
The 50 best proposals will proceed to the next stage of judging in Beijing from August 27 to 28 but only 20 will make it to the final on September 20.
The winning team will receive initial funding of $500,000 to $1 million, while the top five teams will get to participate in IDG FreeMan, IDG's youth recruiting program. Each recruit will receive an annual salary of $100,000.
IDG was one of the first international investment institutions to enter the Chinese market. It has invested in about 300 enterprises including top search portal Baidu, smartphone maker Xiaomi and hotel chain Homeinns.
The company has invested in start-ups by people born in the 1990s or projects related to this generation's lifestyle since 2013, said Zhang Lei, an official of IDG's marketing department.
"The young generation born after 1985 is creative and good at capturing new lifestyle and consumption models. Their ideas have great commercial potential for mobile Internet," said Zhang.
"We hope to find young entrepreneurs through this contest and give them support."
This is the second year IDG is holding a contest but the first time it is including US campuses.
It was prompted to do so after seeing so many Chinese students in the US who were keen to return to China to start their own businesses, it said.
"We hope to give them a springboard," said Zhang. "We also hope to promote cultural exchanges and entrepreneurial collaboration among the students."
"This contest can solve three major problems that Chinese college students face when starting a business: a lack of good ideas, lack of experience and too few measures guarding against risk," said Zhou Wei, vice president of Only International Education.
"When people see a successful start-up they ignore the thousands of failures lying behind it," he said.
"Many students have great ideas but no capital to act on that because they lack experience. The majority have no idea how to move forward with their ideas."
Those who want to join the contest but lack a solid proposal can join other teams. Only International Education will assign them tasks and mentors to help them learn while they compete.
IDG investors, Chinese entrepreneurs and other influential figures are giving campus talks at 12 Chinese and 10 US universities. In February, they visited Stanford, UC Berkeley, University of Southern California and University of Washington to share their experiences.
Chinese students made up most of the attendees. They wanted to know how to get a business off the ground. They were also concerned about the state of the Chinese market and the country's business climate, Zhang said.
"They want to know if and how their businesses can relate to the Chinese and how they would be accepted," said Zhang.
More talks will take place at six universities on the east coast of the US - Columbia, Cornell, Princeton, University of Pennsylvania, MIT and Harvard - from April 18 to 24.
lixueqing@chinadaily.com.cn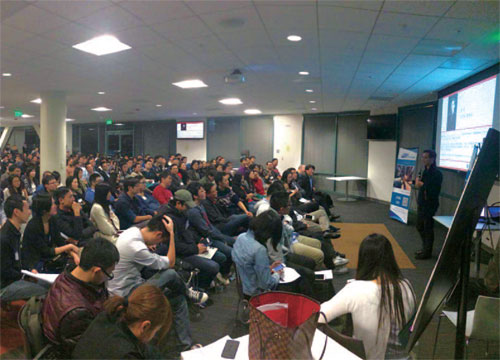 A campus talk by investors in Shanghai attracts hundreds of students. Provided to China Daily