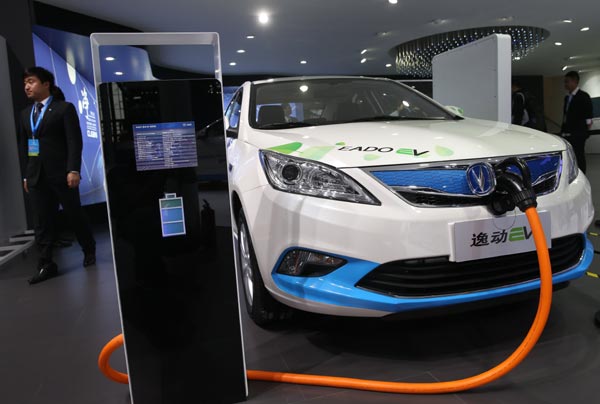 A Changan electronic car, one of the domestic brands, on display at the Shanghai auto show. Domestic automakers unveiled 51 vehicles, nearly a half of the new-energy cars at the event. The sector is becoming extremely competitive in the China with foreign players snatching the lion's share of the market. [Photo/China Daily]
With environmentally-friendly vehicles and the need for sustainable growth a government priority, major automakers are launching hybrids and plug-ins, which customers are snapping up, reports Du Xiaoying.
Automakers in China and abroad are battling for market share in the new-energy vehicle sector as Chinese customers go green.
At the Shanghai auto show, one of the country's top motoring events, a record 103 new-energy cars were on display.
Fifty-two of them were unveiled by foreign manufacturers, including Mercedes-Benz GLE, BMW X5 xDrive40e, Volkswagen XL1, Audi A6L e-tron, Mitsubishi Outlander PHEV Concept-S and Toyota Mirai.
Domestic automakers came up with 51 vehicles, including BYD's plug-in hybrid models Song and Yuan and Hawtai Motor's Lusheng E70EV. Domestic competitors tended to have cheaper price tags on their brands.
Electric car superstar Tesla also brought three models under its Model S series to the show. Meanwhile, another United States-based automaker, Detroit Electric, displayed its SP:01 model. The electric car is expected to hit the Chinese market in September and compete with other premium electric cars in the market such as Tesla.
The plug-in hybrid vehicles sector was also one of the big features in Shanghai auto show. "Hybrid cars have no limitation in ranges, and offer safer alternative flexibility," Hakan Samuelsson, CEO of Volvo Cars Group, said at the show.
Zhong Shi, an independent auto analyst, is just as bullish about the hybrid market. "From the practical perspective, the plug-in hybrid vehicles can use petrol, and not completely rely on (electric) charging posts," said Zhong. "Meanwhile, it fits the restriction policies of plate license in many Chinese large cities, which gives the new-energy vehicle market a very bright future."