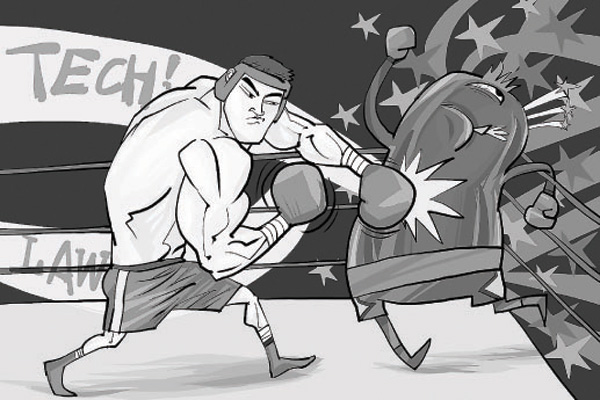 ZHANG CHENGLIANG/CHINA DAILY
Nation must look toward existing technologies to tackle environmental challenges
China is stepping up its efforts in strengthening anti-pollution laws. The Environmental Protection Law, which took effect on Jan 1, has increased the responsibility of local governments in dealing with environmental problems and made polluters liable to pay unlimited daily fines for violations.
In December, the country's top legislature reviewed the first amendment to the Law on Air Pollution Prevention and Control since 2000. The draft is reported to have details on dealing with various pollution sources, including the required use of advanced equipment and technology in production.
In addition, the United States and China jointly set ambitious new climate change goals in November. US President Barack Obama pledged to cut US greenhouse gas emissions by 26 to 28 percent below 2005 levels by 2025. President Xi Jinping announced targets to peak carbon dioxide emissions and to raise the share of non-fossil fuels to around 20 percent of total energy use by 2030 or sooner.
The issue now is not whether measures need to be taken; it is about what measure to take. Ironically, the solution could well lie in what is frequently blamed for upsetting the environmental balance in the first place: technology.
During the past 50 years, average life expectancy has increased by 30 percent, child mortality has dropped by two-thirds and per capita income has tripled in real terms. Most of these gains have been driven by technology. The downside has been an increase in demands for energy, which in turn has boosted the production of greenhouse gases that contribute to climate change.
Technologies exist today that can almost immediately help companies and governments make tremendous strides in coping with environmental challenges. New research shows that by 2050, clean, renewable energy could supply 100 percent of the world's energy needs using existing technologies.
Air pollution is a huge issue in China. According to the Ministry of Environmental Protection, out of 161 cities, only nine met the stricter air quality monitoring standards introduced in the first half of 2014.
According to the ministry, the three primary sources of airborne pollutants 2.5 microns or less in size that are capable of deeply penetrating the lungs are transportation, buildings and industrial facilities, and coal burning. Together they account for 50 to 70 percent of China's total air pollution.
One of the most sensible and fundamental solutions would be to curb pollution at the source. That's what the US and Europe did when they were experiencing exactly the same situation that China is suffering today.
Transport is a major challenge for China. In 2013, Chinese automakers produced more than 22 million vehicles, which took the total number on the road to over 137 million, according to the China Association of Automobile Manufacturers.