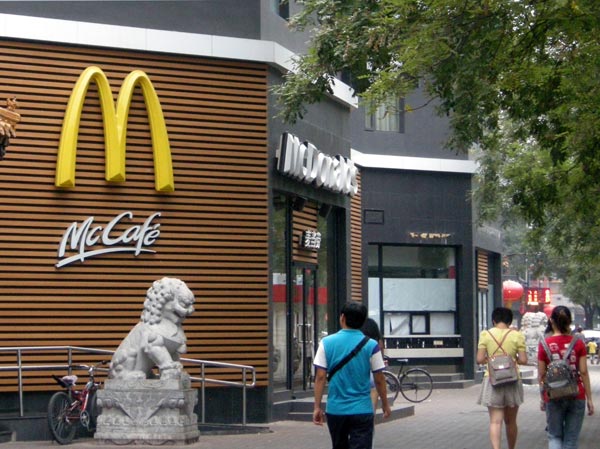 People walk past a McDonald's fast-food restaurant in Beijing. [Photo Provided to China Daily]
BEIJING - A Beijing company that supplies fries to McDonald's has been fined a record 3.9 million yuan ($655,000) for water pollution, the city's environmental watchdog said on Wednesday.
The penalty imposed on Beijing Simplot Food Processing Co Ltd -- a joint venture between US agribusiness giant JR Simplot Company, McDonald's and the Beijing Agricultural, Industrial and Commerce General Company -- is the largest fine ever meted out by Beijing for pollution.
In November, official inspectors found the chemical oxygen demand (COD) in waste water discharged by the company was 563 mg per liter, exceeding the limit of 500 mg/liter.
Law enforcement officials immediately blocked the company's sewage pipes and ordered it to treat its waste water at a processing plant.
The pollution occurred as Beijing Simplot was upgrading its sewage treatment facilities. The polluted water flowed into urban pipe networks, according to the Fengtai District Environmental Protection Bureau.
The bureau decided on the fine after a hearing in March.
China is strengthening environmental protection with tougher laws and regulations. In January, the amended Environmental Protection Law came into effect, bringing with it tougher measures against polluters and lifted the caps on pollution fines.
Last year, Beijing also sharply increased fees levied on the discharge of major air and water pollutants, including sulfur dioxide, nitric oxide, chemical oxygen demand and ammonia nitrogen.
Zhong Chonglei, an official with Beijing Municipal Environmental Protection Bureau, said heavy polluters in Beijing would see both their pollution fees and fines multiplied by as much as by 15 times.
"The discharge costs for polluting companies are catching up with the cleaning costs," Zhong said. "It will exert greater economic leverage in the city's industrial restructuring."
Beijing Simplot, established in 1992 in Beijing's Fengtai District, primarily produces french fries and hash browns for McDonald's and other East Asian customers.