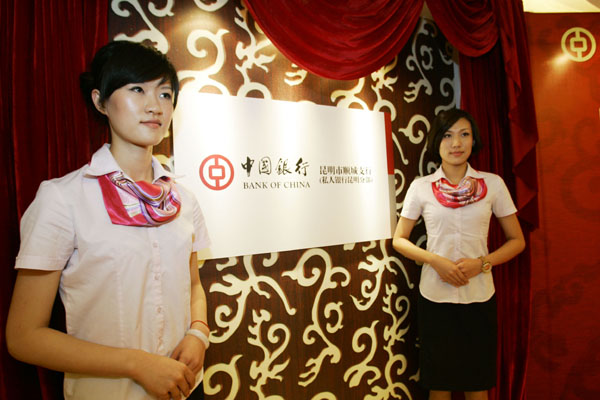 BOC's private banking in Kunming city, South China's Yunnan province, July 27, 2010. [Photo/Xinhua]
BEIJING - Bank of China's after-tax profit rose 1.21 percent year on year to reach 47.8 billion yuan ($7.8 billion) in the first quarter, the bank announced on Wednesday.
The lender's assets totaled 16 trillion yuan at the end of March, while its total liabilities stood at 14.8 trillion yuan, according to a report on the bank's website.
Capital adequacy ratio stood at 14.1 percent, non-performing loans came in at 117 billion yuan, with the bad loan ratio at 1.33 percent.
The bank is listed in both Shanghai and Hong Kong. Its shares on Wednesday lost 1.78 percent in Shanghai to 4.97 yuan per share and 0.36 percent in Hong Kong to HK$5.53.
Profit growth at China's major banks has been weak as the economy enters a period of slower growth.
The 16 banks listed on the Shanghai and Shenzhen bourses have forecast three to five percent growth in profits in the first quarter, China Securities Journal reported Monday.