Chinese fast-food-loving customers still have image problem with burger giant's products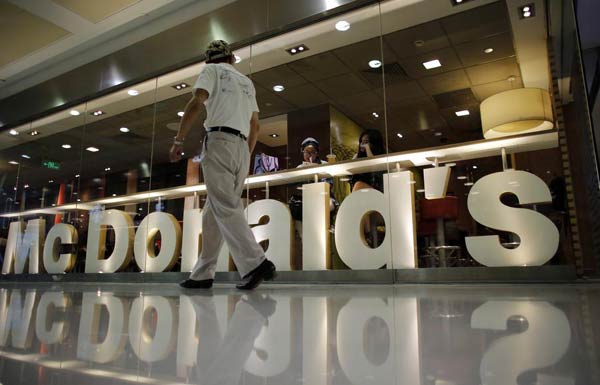 A man walks next to a McDonald's restaurant at a shopping mall in Shanghai July 28, 2014.[Photo/Agencies]
McDonald's Corp's worldwide restaurant sales fell 1.7 percent in February, despite a slight boost in business from the Chinese Lunar New Year.
The world's largest restaurant chain's home US sales dropped an even larger 4 percent due to "ongoing aggressive competitive activity", according to its latest market report.
The company's Asia Pacific, Middle East and African February sales fell 4.4 percent, due primarily to what the company called broad-based consumer perception issues in Japan, which were partly offset by the benefit of a later Chinese Lunar New Year and certain other markets, as well as positive results in Australia.
That was an improvement, however, from the 12.6 percent drop in January when sales suffered from food scandals in China and Japan, said McDonald's.
Rebuilding brand trust by strengthening quality and value perceptions is one of the company's top priorities for 2015, it said.
The global sales still represented a sharp drop, however, from what analysts had estimated would be a 0.3 percent fall in same-restaurant sales, according to those polled by research firm Consensus Metrix. Those had included declines of 0.7 percent in the US and 3.1 percent in APMEA, said Reuters.
Ben Cavender, principal of the Shanghai-based China Market Research, said McDonald's is likely to continue seeing weakening sales in China.
An undercover local Chinese TV report on July 20 showed workers at Shanghai Husi Food Co Ltd using expired meat and doctoring food production dates. Regulators immediately closed the factory, which is part of OSI Group LLC, a US food supplier and McDonald's partner.
Cavander said the company had been unable to rebuild confidence with consumers since the incident and he expected questions over the quality of its food supply to continue, and as buyers increasingly turn to healthier options.
McDonald's recently announced it is expected to phase out chicken raised with certain kinds of antibiotics in China. "The measures will be carried out gradually and accordingly, based on the actual situation of Chinese agriculture," McDonald's China said in a statement.
"McDonald's China will work with related government departments, experts and suppliers to carry out such measures," it said.
In the US, McDonald's said it plans to eliminate chicken raised with antibiotics that are critically important to human medicine within the next two years. A change to using milk from cows that have not been treated with an artificial growth hormone will also take place later this year.
But McDonald's said it will continue to buy chicken raised with ionophores, an animal antibiotic commonly added to feed that keeps chickens healthy and is not used in humans.
McDonald's China did not respond to China Daily's requests for details of its performance in the Chinese market by press time.