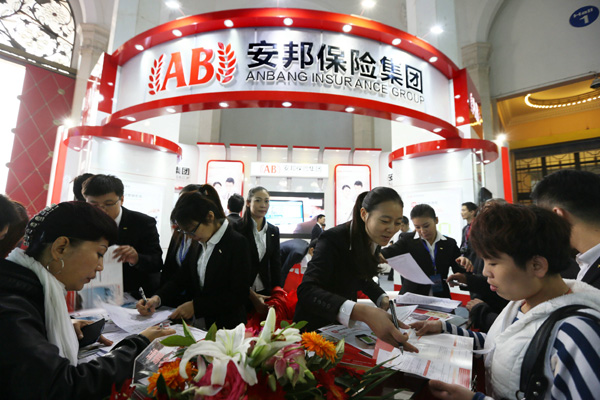 Staff of Anbang Insurance Group Co Ltd at an international finance expo in Beijing. The company reported explosive profit growth for 2014. [Photo/China Daily]
Surge in A-share market brings handsome returns for once-obscure Anbang Insurance
Anbang Insurance Group Co Ltd, the Chinese insurer known for its high-profile purchase of New York's famed Waldorf Astoria hotel, has reported explosive profit growth for 2014, which analysts said was fueled by its surging premium income and investment returns.
The net profit of Anbang's life insurance business reached 8.48 billion yuan ($1.37 billion), more than 34 times the year-earlier level, the company said in its financial statement on Wednesday.
Life insurance premiums stood at 52.9 billion yuan, more than 38 times the previous year's level.
Net profit in the property insurance sector reached 17.47 billion yuan last year, compared with 3.53 billion yuan in 2013.
The gains can be explained by aggressive expansion through domestic and global investment and acquisitions, said Wang Guojun, an insurance professor at the University of International Business and Economics in Beijing.
"Anbang is an exceptional case as the company has grown so fast from such a small asset base," Wang said.
The company, which was an obscure player in the Chinese insurance industry just a few years ago, rose to sudden prominence in the financial market after a string of high-profile domestic and international investments and acquisitions.
It has steadily built up shareholdings in China's major property developers and banks through on-market purchases.
Those holdings yielded fat profits for Anbang as the booming A-share market surged more than 80 percent over the past six months. The market value of Anbang's holdings may exceed 140 billion yuan, media reports said.
Anbang also continued its global expansion this year by acquiring the Dutch insurance company Vivat and South Korea's Tongyang Life Insurance Co.
The transformation of Anbang into a financial empire with licenses in almost all market segments has drawn much attention.
Its aggressive investment has been backed by a strong capital injection from its shareholders.
In less than one year, the company managed to boost its registered capital from 12 billion yuan to 61.9 billion yuan as of the end of 2014, making it the country's largest insurer by that measure.
With total assets of more than 700 billion yuan, the company is China's fourth-largest insurer by asset value.
During a recent visit to Harvard University as part of a global talent hunt, Anbang Chairman and Chief Executive Wu Xiaohui talked about the company's ambitious plan to build a global financial empire.
"In the next 10 years, Anbang will have subsidiaries on every continent and it will be a global holding company with subsidiaries listed on many stock exchanges ... By then, Anbang's asset scale will exceed your imagination," Wu said.
A public relations official of Anbang told China Daily that the company will continue to expand its global footprint through international acquisitions.
"Australia and the United Kingdom are among Anbang's next investment destinations," the official said.