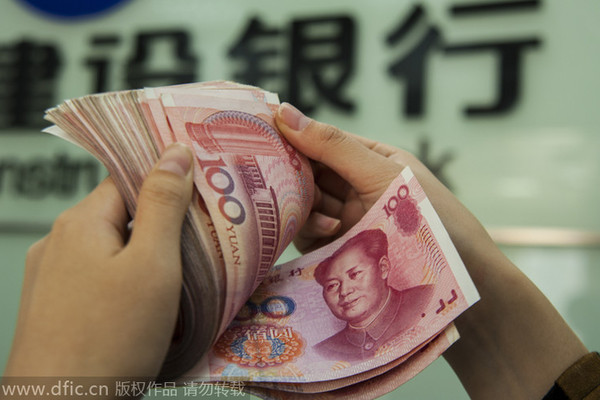 A Chinese clerk counts renminbi banknotes at a branch of China Construction Bank in Haian county, Nantong city, East China's Jiangsu province, Nov 22, 2014. [Photo/IC]
Move is precursor to further liberalization of interest rate system
An insurance system for bank deposits will start on May 1, a step toward scrapping remaining controls on interest rates and allowing lenders to fail in a more market-driven economy.
Deposits and interest up to 500,000 yuan ($81,000) will be fully covered, the State Council said in an online statement on Tuesday.
For deposits in excess of that level, compensation will be set according to the amount available from a bank's liquidated assets, it said.
China is pursuing rate liberalization just as bad loans reach a six-year high and forecasts for the weakest economic growth since 1990 raise the stakes for ensuring that reform occurs without financial turbulence. The dominance of State-controlled lenders has until now left savers believing in an implicit government guarantee in the only major economy in Asia to lack a formal deposit insurance system.
"Deposit insurance is a crucial step toward interest rate liberalization," said Ma Kunpeng, an analyst at Sinolink Securities Co. "Without deposit insurance, you can't set the deposit rates free."
The central bank could cut reserve requirement ratios for lenders again as early as this month to help offset the drain on banks' liquidity from being required to set aside money for insurance, Bank of Tokyo-Mitsubishi UFJ (China) Ltd analyst Li Liuyang said.
The statement did not detail what premiums banks would pay, saying only that they may differ based on factors such as lenders' operations and levels of risk.
Local-currency deposits stood at 122 trillion yuan as of February. The rules announced would require the deposit insurance fund to make full payments to such people within seven working days of an event such as the fund taking over a failed lender.
Smaller banks face the risk of withdrawals by corporate depositors to counterparts with strong capital bases and extensive distribution networks, according to Judy Zhang of BNP Paribas SA.
Besides liquidity risk, smaller lenders may have to bear higher funding costs to keep customers, putting pressure on their earnings, she said ahead of Tuesday's announcement.
Falling fourth-quarter profits for lenders including China Construction Bank Corp and Industrial and Commercial Bank of China Ltd, which both reported their first declines since the global financial crisis in 2008, have highlighted stresses in the industry and the economy.
In a report last year, Yao Wei, a Paris-based China economist at Societe Generale SA, said that changes such as allowing banks to fail "could significantly increase the chance of a severe financial crisis if not managed deftly". On Tuesday, she noted that such failures still seemed a distant prospect in a financial system where it was unusual for a bond or a trust investment product to default.
Tuesday's move had been widely anticipated, with the government announcing draft rules in November and People's Bank of China Governor Zhou Xiaochuan saying that insurance would begin in the first half of this year, with the deposit-rate ceiling likely to be lifted this year.