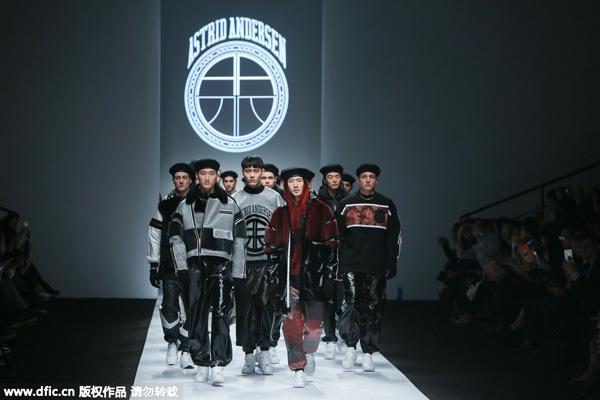 2015 Fall/Winter Shanghai Fashion Week Astrid Andersen. [Photo/IC]
Shanghai Fashion Week introduces a business showroom for deals and focuses more on homegrown talent as it takes tips from biggest markets
There was a small but important difference at this year's Shanghai Fashion Week: for the first time, it had an official showroom where deals potentially worth millions of dollars could be struck.
The bold gesture also highlights the grand ambitions of this government-sponsored event as it strives to join ranks with the big four fashion weeks in London, Paris, Milan and New York.
"A fashion week without a showroom would just be a series of shows held for their own sake," said Du Wenxia, one of the organizers. "A showroom provides a platform for real business to take place between buyers and designers."
The 5,000-square-meter showroom was located in an underground parking lot about 3 kilometers from Xintiandi, a downtown cluster of upscale bars and restaurants near a green park, where about 50 fashion shows took place in a white tent from April 8 to 15.
Du has high hopes that the showroom will bring Shanghai Fashion Week, now in its 13th year, "a step closer to international level".
Like his colleagues at the Shanghai International Fashion Center, a subsidiary of State-owned Shangtex Group, which organizes the twice-yearly event, he sees it as a greenhouse where China's own Michael Kors or Tommy Hilfiger may be cultivated.
Founded in 2003, Shanghai Fashion Week was initially blasted as a public relations exercise that squandered vast sums of money in a bid to promote China's fashion industry, with international luxury brands lured as a face-saving measure.
But the doubting Thomases misread the city's ambition, which from the outset was to transform Shanghai into the world's fifth fashion capital.
In the first year alone, Lanvin and Vivienne Westwood brought their collections and made a big splash.
Recently, as competition ramps up and China shows signs of ending its infatuation with foreign luxury brands in favor of less ostentatious homegrown products, the focus has been shifting back to domestic designers.
According to statistics from Style.com, more than 80 fashion weeks are now held each year around the world.
Despite the presence of big names in Shanghai this month such as Diesel founder Renzo Rosso and artistic director Nicola Formichetti, young local designers accounted for more than half of the shows held.
"I see world-class creativity here," said Imran Amed, the editor-in-chief of London-based Businessoffashion.com.
Amed attends around 25 fashion weeks a year and said he is "more interested in the less glamorous and more business side of the industry".
As his website launched a Chinese-language version late last year, Amed visited Shanghai Fashion Week for the first time to engage more closely with what he called the world's fastest-developing market.
"The most exciting thing here is the young designers. If China is going to have an international fashion capital, they must be the ones making it possible," he said.
Amed said they lack support at the moment and that China is still missing a healthy fashion industry ecosystem.
The showroom, which was open for three days, might help plug some of the gaps. Called Mode Shanghai, it welcomed more than 200 fashion brands and independent designers.
It saw Chinese fashion buyers feel fabrics and talk to designers while also offering a free platform for less-established designers and brands to mingle.
In contrast, the cost of a fashion show at the event ran from 60,000 yuan ($9,760) to 100,000 yuan.