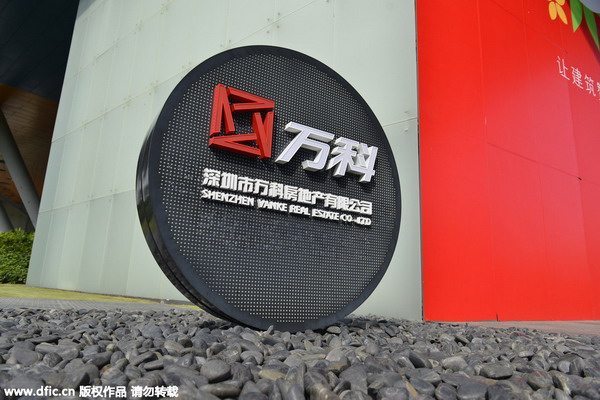 View of the headquarters of China Vanke Co in Shenzhen city, South Chinas Guangdong province, August 18, 2014. [Photo / IC]
China's largest residential property developer, China Vanke Co Ltd, said its first-quarter core profit fell 58.9 percent, reflecting a slide in the property sector that prompted Beijing's central bank to take steps to boost the market.
The company said the year-on-year fall was due to a high starting base and lower margins, but it expected to see a growth in profit for the full year.
In a statement released on Sunday, Vanke said its core profit was 628.7 million yuan ($101.52 million) in January-March, compared with 1.5 billion yuan a year earlier.
Net profit slipped 57.5 percent to 650.2 million yuan, while revenue declined 6.4 percent to 8.9 million yuan.
In efforts to bolster a then-slowing housing industry, which accounts for some 15 percent of gross domestic product, China in February cut interest rates and bank reserve requirements. It also lowered downpayment levels, as well as offering bigger tax breaks in March.
"Completed projects in the first quarter this year only accounted for full-year's 5.5 percent, lower than last year's 6.6 percent," the company said in its statement. "According to our current forecast, we will still see a growth in full-year net profit."
Last week, the central bank cut the bank reserve requirements again by 100 basis points - the biggest cut since the global financial crisis - following data that showed annual economic growth slowed to a six-year low of 7.0 percent and that property investment was at its weakest since early 2009.
Vanke said its net profit margin dropped to less than 8 percent from 16.1 percent a year ago, hurt by fewer sales in first-tier cities and higher land costs coupled with declining home prices. The developer told an earnings conference last month land prices in China have not yet returned to reasonable levels.
Earlier this month, State-owned smaller peer China Overseas Land & Investment Ltd reported a 4.5 percent rise in operating profit in the first three months and said it expected the property market to benefit this year from monetary easing.
China's average new home prices continued to fall in March, but on a narrowing trend that is expected to continue, showing the impact of the market stimulus policies.
Growth in real estate investment in the first quarter slowed to 8.5 percent from a year earlier, the lowest rate since 2009 as developers focused on clearing excess inventory. But the decline in property sales volumes narrowed to 9.2 percent for the first quarter compared with 16.3 percent for the first two months alone.