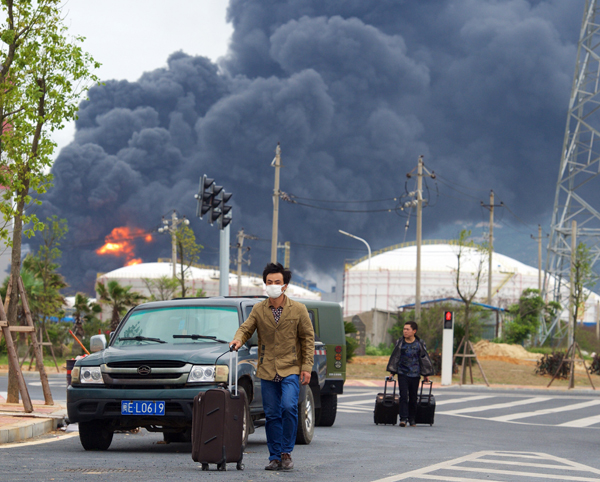 Local people leave the danger zone after another oil storage tank exploded at a chemical plant in Fujian province on Wednesday morning, just 40 hours after earlier explosions.[Photo/Xinhua]
The fire in a chemical plant in East China's Fujian province has been finally put out, more than 2 days after blasts occurred there, said authorities.
A total of 29,096 people have been evacuated from the surrounding area.
According to the emergency response headquarters for the accident, the blaze in the plant of Tenglong Aromatic Hydrocarbon (Zhangzhou) Co. Ltd. on Gulei Peninsula of Zhangzhou City was extinguished at around 2:57 a.m. on Thursday after storage tanks repeatedly caught fire.
Two storage tanks were ignited again on Wednesday after the fire was distinguished on Tuesday night.
On Monday evening, oil leaked from a xylene facility caught fire and led to blasts at three nearby chemical oil tanks at Tenglong Aromatic Hydrocarbon (Zhangzhou) Co. Ltd.
More than 170 fire engines arrived to battle the blaze.
Analysts from commodity broker Cinda Futures said the chemical company has two PX production lines, with a designed annual capacity of 1.6 million tons, which accounts for about 13 percent of China's PX production capacity.
Six people were injured in the accident.
Pollution monitoring work is underway. No excessive pollutants have been detected in nearby communities or water supplies, the authorities said.
The Fujian provincial government cordoned off the plant and prepared 50,000 sandbags and 654 tons of firefighting foam to battle the blaze.