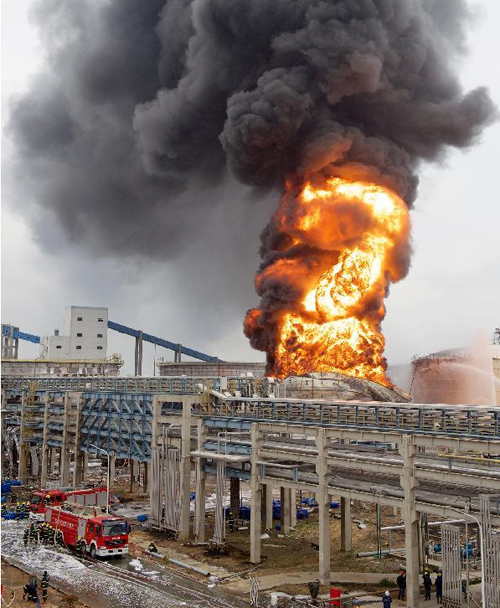 Photo taken on April 8, 2015 shows a burning chemical plant in Zhangzhou, Southeast China's Fujian province. A fire at the chemical plant that exploded on April 6 in Fujian reignited again early Wednesday. [Photo/Xinhua]
A fire at a chemical plant in East China's Fujian province is being investigated as a "safety accident" and not an environmental one, a Ministry of Environment Protection official told the Beijing News.
The fire did not cause great damage to local water and air quality, according to environmental monitoring, the newspaper reported. The fire broke out for a second time in the early hours of Wednesday.
Residues in an oil storage tank ignited when exposed to the air, the headquarters for handling the accident at the Tenglong Aromatic Hydrocarbon (Zhangzhou) Co. Ltd. on the Gulei Peninsula in Zhangzhou city said.
The blaze was caused when oil leaked and caught fire at three storage tanks at the plant, which produces paraxylene, or PX, an industrial chemical used mainly to manufacture polyester.
Paraxylene poses a health risk because of its flammability and toxicity.
The plant is designed to produce 800,000 metric tons of PX a year and has investment of nearly 14 billion yuan ($2.28 billion).
It was originally planned to be built in the densely populated tourist city of Xiamen, but protests by residents over potential health hazards in 2007 led to it being switched to a less populated area in Zhangzhou.
A trial run at the plant was staged in June 2013 and operations started officially later that year.