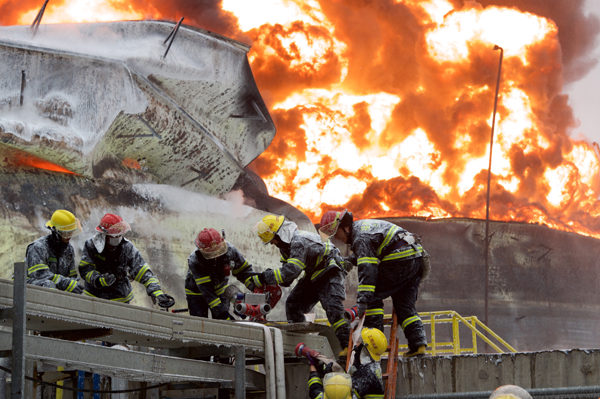 Firefighters battle the chemical plant blaze in Zhangzhou, Fujian province, on Tuesday in which at least 19 people were injured. JIANG KEHONG/XINHUA
An explosion at a factory in Fujian province that injured at least 19 people could trigger new fears about chemical projects, according to an expert.
The blast was caused when oil leaked and caught fire at three storage tanks at the plant, which produces paraxylene, or PX, an industrial chemical used mainly to manufacture polyester.
Paraxylene poses a health risk because of its flammability and toxicity.
The cause of the explosion on Monday evening was determined by an initial investigation by the Fujian Bureau of Workplace Safety. It was the second accident in 20 months at the Tenglong Aromatic Hydrocarbon (Zhangzhou) Co in Zhangzhou.
Ma Jun, an expert at the Institute of Public and Environmental Affairs, said the incident could jeopardize the credibility of local authorities who promise that chemical projects will not pose a significant public safety threat.
"Companies involved in PX projects are expected to continue offering the public explanations about PX, but people's fears are not just triggered by a lack of understanding about a certain issue," Ma said.
Ma added that companies should be more careful before making decisions on PX projects, and should introduce management systems to ensure that personnel and departments shoulder responsibility if such accidents occur.
After construction, such projects should be under strict regulation so that the public can be assured, Chen said.
Chen urged local governments to better handle information disclosure work on such construction and said factories should work together with local communities on defusing misunderstandings instead of hiding behind the government.
The plant is designed to produce 800,000 metric tons of PX a year and has investment of nearly 14 billion yuan ($2.28 billion).
It was originally planned to be built in the densely populated tourist city of Xiamen in Fujian, but protests over potential health hazards by residents in 2007 led to it being switched to a less populated area in Zhangzhou.
A trial run at the plant was staged in June 2013 and operations started officially later that year.
By Tuesday morning, provincial environmental protection authorities had sent more than 50 staff members to carry out environmental monitoring. Wastewater was collected, but no excessive pollution was detected in three nearby villages.
The fire department sent 177 fire engines and 829 firefighters to battle the blaze, which was brought under control.
The cause of the incident is still being investigated.
Zheng Jinran contributed to this story.
Contact the writers through sunli@chinadaily.com.cn