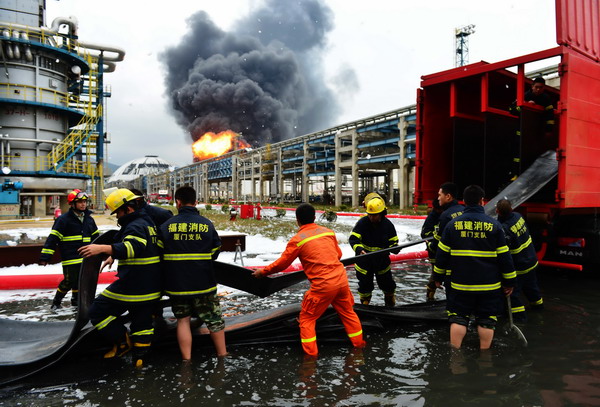 firefighters battle the chemical plant blaze in Zhangzhou, Fujian province, in which at least 19 people were injured, April 8, 2015. [Photo / Xinhua]
Compound is widely used in textiles and pharmaceutical items
The explosion that ripped through a chemical plant in Fujian province and sparked a major fire may cause paraxylene supply shortages and price hikes, an industry expert said on Tuesday.
The plant was owned by Tenglong Aromatic (Zhangzhou) Co Ltd, one of China's major paraxylene producers. Up to 19 people including firefighters are believed to be injured from the accident, which was reportedly caused by an oil leakage.
Li Li, research director at ICIS Energy, a Shanghai-based energy information consultancy, said the explosion might cause production suspension, which will result in supply shortages and price hikes in an already tight market.
Paraxylene, which is commonly referred to as PX, a flammable and carcinogenic liquid used in the production of polyester films and fabrics, is widely used for making cloth, drug capsules and water bottles.
China's demand for PX has been growing steadily in the past few years, and it became the largest consumer of the chemical in 2012 with annual demand of about 13.85 million metric tons. However, the country's annual production capacity of PX is only 8.8 million tons.
Last year, China consumed 17.66 million tons of PX, of which 9.08 million tons came from imports, accounting for 51.4 percent of the demand.
Li said Asia, led by China, will need new PX capacity of 9 million tons in 2015, while the planned new capacity is less than 4 million tons.
"PX facilities are normally shut down for maintenance during the second quarter of the year and this period may see more price hikes due to the blast," she said.