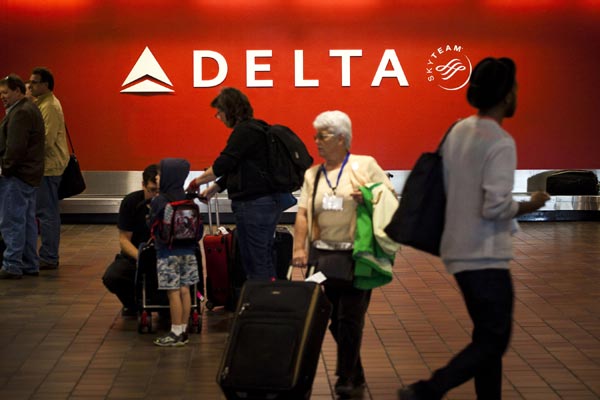 Delta Air Lines Inc passengers pick up their luggage at LaGuardia Airport in the Queens borough of New York, US. Delta will start a daily Los Angeles-to-Shanghai route later this year. [Photo/Agencies]
Delta Air Lines Inc Chief Executive Officer Richard Anderson said he envisions creating an international hub in Shanghai to build on a growing relationship with China Eastern Airlines Corp.
"When you think about what our strategy is long-term, we need to have a hub in Shanghai like the one we have in Amsterdam," Anderson told employees in a recorded message.
Anderson's comments underscored the importance he attaches to expanding in China, where the Atlanta-based airline has added service to Shanghai and has a partnership with China Eastern in the SkyTeam alliance. A hub modeled on operations at Amsterdam's Schiphol Airport would let Delta collect domestic passengers from around China and steer them to US destinations.
Delta will start a daily Los Angeles-to-Shanghai route later this year, on top of service to China's largest city from Seattle and Detroit. Last week, Delta became the first US airline to accept payments from China's Alipay, which resembles PayPal. It also is co-locating with China Eastern inside the Shanghai airport.
"As we plan for our long-term future, it becomes more clear every day that China will be a major part of our business," Anderson said in the hotline message, which was posted on Saturday. Delta did not respond to a request for comment about the China strategy on Monday.
Delta is No 2 among US carriers in flying across the Pacific, trailing United Airlines. While Delta has a hub in the region in Tokyo, Chicago-based United has a head start in offering flights to secondary Chinese cities, such as Chengdu in the nation's interior.
Shanghai, where China Eastern is based, is not yet close to Schiphol as an overseas gateway. The Chinese airport is the world's 29th-busiest airport for travelers flying abroad, according to the Airports Council International. Schiphol, a hub for Sky Team partner Air France KLM Group, is No 5.
There is "no chance" the Chinese government would allow Delta to fly between two cities inside the country, so any Shanghai hub would be limited to connecting passengers to domestic carriers, said Michael Boyd, president of Evergreen, Colorado-based Boyd Group International.
That would still give Delta more Chinese customers to ferry into the US and beyond to points such as Sao Paulo, where the airline owns a stake in Brazil's Gol.
Traffic between China and Brazil is seeing tremendous growth, Boyd said. The only question is whether a Chinese carrier would want to operate in a trans-Pacific partnership with Delta or fly its own planes, Boyd said.