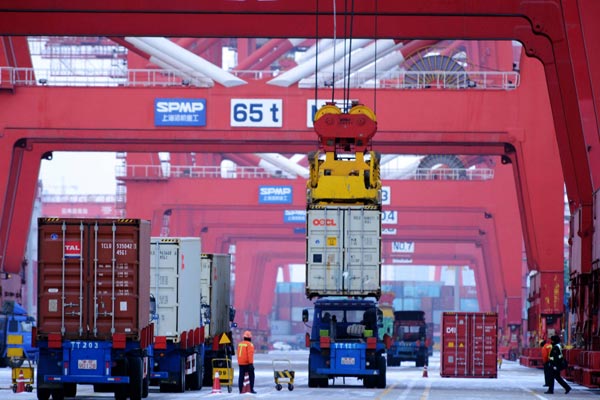 A ship loads containers at a terminal in Qingdao, Shandong province. China is poised to open up its market further to foreign investment. [Photo/China Daily]
BEIJING - China's fresh resolution to seek industrial cooperation with other countries will create mutual benefits amid the feeble global economic recovery, rather than finding an outlet for polluting and outdated overcapacity.
Chinese Premier Li Keqiang has announced that the country will accelerate exports of equipment and promote industrial cooperation, a move that aims to encourage Chinese enterprises to invest abroad and helps less-developed economies to modernize.
After decades of rapid economic advance through opening up and reform, China has moved into the later stage of industrialization and accumulated huge capacity to churn out fundamental products including iron and steel, cement and plate glass.
This infrastructure, technology and expertise, though under-utilized in China, is urgently needed in economies in the middle of industrialization. For instance, African countries which rely heavily on imports are crying out for their own factories and production lines.
Chinese enterprises are willing and able to lend a helping hand.
In this way, local industry will surge with employment boosted and infrastructure improved. At that point, more overseas capital can be attracted, benefitting both local people and other global investors.
At the core of exporting China's equipment and extra capacity is to build a new global value chain that treats all players in the world fairly, be it developed economies or poor countries.
The bottom line is the cooperation should not be interpreted as China transplanting polluting factories it no longer wants. China will not seek cooperation that sacrifices the environment or the long-term interests of its partners.
China is backing up the "capacity exports" drive with an array of initiatives that will facilitate the process, including the Asian Infrastructure Investment Bank, the "Belt and Road" Asian infrastructure project and the New Development Bank.
It is also imperative for China to move forward with the cooperation if a country wants to upgrade its manufacturing sector and overhaul its industrial structure.