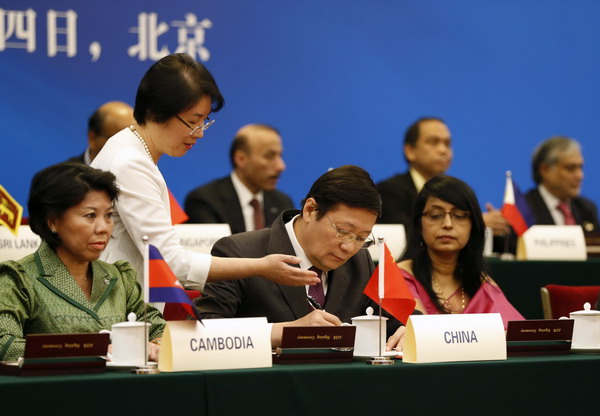 China's Finance Minister Lou Jiwei (C) signs a document, with the guests of the signing ceremony of the Asian Infrastructure Investment Bank at the Great Hall of the People in Beijing October 24, 2014. [Photo / Agencies]
Preliminary meetings draw experienced executives as process starts to build steam
The Asian Infrastructure Investment Bank has not been formally established, but the global hunt for talent has already begun.
In early March, a workshop on the institutional development of the new bank was held behind closed doors in Beijing.
But only one of the attendees shown in a photograph published later was Chinese. That was Jin Liqun, chairman of the Multilateral Interim Secretariat of the AIIB.
The two-day workshop discussed the global financial and banking environment and the social framework of multilateral banks, governing structures and procurement policies. Similar topics were discussed at a meeting of delegates in Almaty, Kazakhstan, at the end of March.
The meetings drew officials from major multilateral financial organizations, including the World Bank, Asian Development Bank and European Bank for Reconstruction and Development.
Executives with working experience in international institutions are just what the AIIB is looking for as it seeks to develop standards relating to transparency and lending.
Matthew Dalzell, previously a special adviser to New Zealand's Ministry of Foreign Affairs and Trade who later worked for the World Bank, is now the senior operational expert in the Interim Secretariat, according to his page on LinkedIn, the online business connection website.
Two other foreigners posted information about their roles: one on communications and team coordination, the other on human resources-though their information could not be independently verified.
But it appears the team working for the Interim Secretariat is large. Many employees at the Ministry of Finance have been temporarily dispatched to the Secretariat, which so far has not responded to media inquiries.