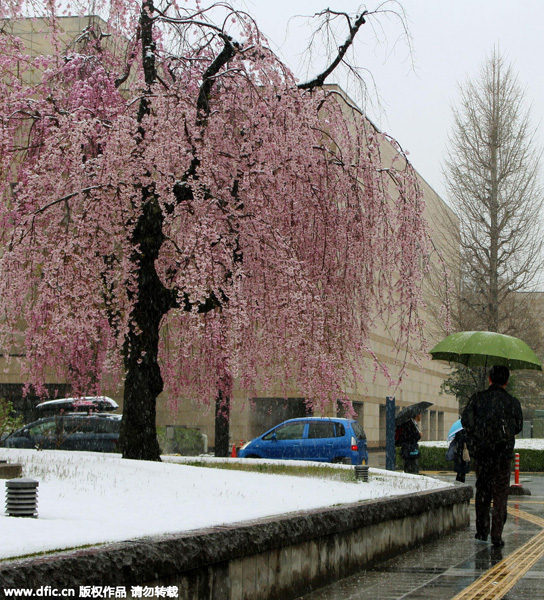 Photo shows snow accumulating under a cherry tree in Utsunomiya, northeast of Tokyo, on April 8, 2015, as Japan turned wintry due to a cold-air system. [Photo/IC]
Chinese and Japanese finance officials are expected to meet in early June and are likely to discuss the Beijing-led Asian Infrastructure Investment Bank (AIIB), the Nikkei business daily reported on Tuesday.
Japan's Finance Minister Taro Aso and his Chinese counterpart, Lou Jiwei, as well as working level officials from international finance, the budget and tax bureaus will participate in the talks in Beijing, the Nikkei reported.
Japan and China are arranging the to hold the talks around June 6, and it would be the first time in more than three years the two nations will hold such high-level finance meetings, according to the Nikkei.
Japan plans to decide on whether to join the AIIB after a summit with the United States later this month and a Group of Seven finance ministers' and central bankers' meeting, the report said.
More than 50 countries and regions have applied to join the bank, including India, South Korea, Russia, UK, France, Italy, Germany and Brazil, 35 of which have been accepted as prospective founding members, according to the Ministry of Finance. A final decision will be made on April 15.
Timeline of the AIIB:
Oct 2, 2013: Chinese President Xi Jinping pledged to set up an Asian investment bank to help fund infrastructure projects as he visited the Southeast Asian region.
April 10, 2014: Chinese Premier Li Keqiang announced at the Boao Forum that China was ready to "intensify consultations with relevant parties in and outside Asia on the preparations for the Asian Infrastructure Investment Bank (AIIB)."
Jin Liqun, former chairman of investment bank China International Capital Corp and vice-president of the Asian Development Bank, was appointed as secretary-general of the Multilateral Interim Secretariat for Establishing the AIIB.
Oct 24, 2014: Representatives from 21 Asian nations including China, India and Singapore, signed an agreement to establish the AIIB.
Nov 24, 2014: Indonesia signed up as the last ASEAN country to join the AIIB.
Mar 12, 2015: China received confirmation from the United Kingdom that it was applying to join as a founding member. UK became the first of the G7 leading economies to join the bank. Its announcement was followed by that of France, Germany and Italy.
April 7, 2015: A total of 56 countries and regions have joined or applied for the AIIB founding membership. A final decision will be made on April 15.