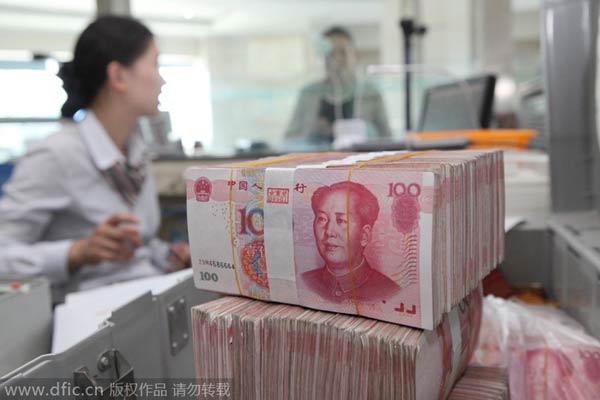 An employee counts renminbi (yuan) banknotes at a bank in Lianyungang city, East China's Jiangsu province, June 4, 2014.[Photo/IC]
As part of the ongoing reform of local government debt, China's Ministry of Finance has given permission to issue 1 trillion yuan ($161.3 billion) in special local (provincial) bonds to replace part of the 1.86 trillion yuan of debt maturing this year.
The bonds will be issued based on market principles through the interbank or exchange markets, available to institutional and individual investors.
The ministry said the initial 1 trillion yuan debt replacement could save local governments 40-50 billion yuan in interest payment annually, and more debt replacement could come if the first tranche is successful.
This is not Chinese "quantative easing", but a debt restructuring and asset securitization.
Contrary to some news reports, the 1 trillion yuan local debt swap does not mean the central government is "bailing out" local government debt, or the central bank purchasing local debt. China's central bank law prohibits the PBOC from directly monetizing government debt.
This is about allowing local governments to issue explicit (provincial) government bonds to replace/refinance part of their current debt, which is largely in the form of bank loans and trust loans via various local platforms (LGFVs).
In doing so, local debt duration can be lengthened and interest costs lowered. In addition loans or loan-type assets will become bond securities that can be sold and are more liquid.
Who will buy these bonds?
Currently the interbank bond market accounts for 95 percent of the total bond market, of which two thirds are held by banks and the rest by other financial and non-financial institutions such as securities and asset management funds, social security funds, insurance companies, and finance companies. As such, the special debt replacement bonds will likely be bought by banks and other institutions.
Also, the government has raised the permitted share of local government debt holding of social security funds from 10 to 20 percent, making it possible for funds to purchase an extra 300-400 billion yuan in local government bonds.
Given the general abundance of domestic saving and controls on bank lending, there should be sufficient domestic liquidity and demand for local government bonds, and there is no need for the central bank to purchase them.