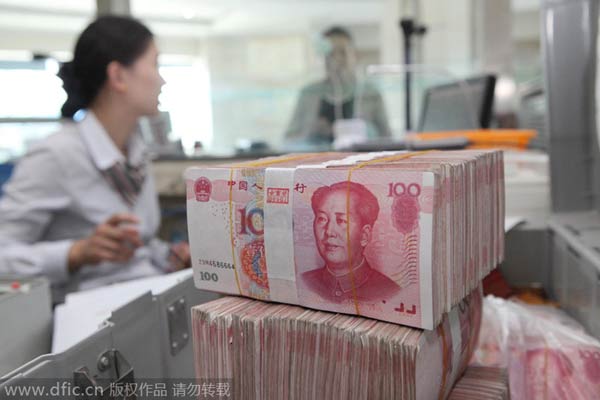 An employee counts renminbi (yuan) banknotes at a bank in Lianyungang city, East China's Jiangsu province, June 4, 2014.[Photo/IC]
China will take steps to rein in possible risks from short-term local government bonds, including converting such bonds into long-term debt, Zhu Guangyao,the country's vice finance minister, said on Saturday.
On March 8, the ministry announced local governments would be permitted to swap 1 trillion yuan ($161.2 billion) of maturing, high-interest local debt for new official municipal or provincial bonds, to help cut interest costs.
Zhu said local governments were burdened by piles of short-term debt, including that raised through trust products.
"In accordance with the State Council's plans, we will turn such short-term financing into long-term financing, and the size for 2015 is 1 trillion yuan," Zhu told an international conference on China's development attended by government officials, business leaders and academics.
"This will help reduce the funding costs and reduce risks."
But the authorities must prevent the problem of "moral hazard" in the process, he said, without elaborating.
The government will keep economic growth stable this year while pushing forward financial and fiscal reforms, Zhu added.
China has been trying to reduce excess factory capacity, local government debt and risks from a cooling property market, which are likely to drag growth to a quarter-century low of around 7 percent this year from 7.4 percent in 2014.
"The pre-condition for our deleveraging is to maintain relatively stable economic growth," Zhu said.
The central bank has cut interest rates twice since November, on top of a cut in bank reserve requirements in February, amid concerns about growing deflationary risks, and more such moves are expected.
In addition, the government plans to run its biggest budget deficit in 2015 since the global crisis to support spending.