Fiscal deficit plans could put pressure on local government financing, reports Reuters.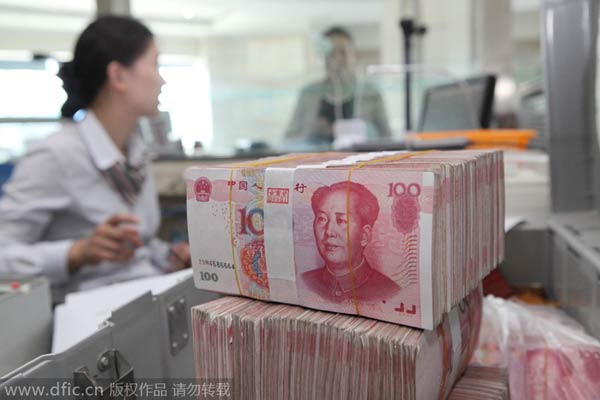 An employee counts renminbi (yuan) banknotes at a bank in Lianyungang city, East China's Jiangsu province, June 4, 2014.[Photo/IC]
China's plan to run its biggest fiscal deficit since the global financial crisis in 2008 may help develop its bond market, but the extra competition for funding could sink some of the major providers of local government financing.
Local government financing vehicles, which were invented to skirt restrictions on local government fundraising, are already under pressure from Beijing's drive to reduce local debt and migrate provincial financing to a more transparent municipal bond model.
With over $3 trillion in outstanding debt that funded essential infrastructure, along with some vanity projects and speculative adventures, LGFVs are finding it hard to service their existing debts, let alone raise new money when loans fall due.
Some fear they could go under.
"There is no way we can survive, and the pressure on the company is huge," said an executive at an LGFV in Yanghou, Jiangsu province, who spoke on condition of anonymity.
His company has several billion yuan in debt raised to build roads and lay pipes.
"Our loans are due, and we can't repay them. If financing remains this tight, some companies will die."
To service China's 1.12 trillion yuan ($180 billion) deficit for 2015, up 170 billion yuan from last year, State borrowers will also turn to the bond markets, competing for cash with LGFVs just as investors grow wary that the vehicles no longer enjoy the guarantees they enjoyed in the past.
Greater liquidity and transparency in the bond markets should improve a major structural weakness in China's economy, the inefficient allocation of capital, but LGFVs benefited from such inefficiencies.
"In the past, LGFVs would issue bonds with ridiculously low yields, which would then be purchased by local banks," said Zhou Hao, economist at Australia and New Zealand Banking Group Ltd in Shanghai.
"Now LGFVs will have to issue bonds according to market standards. It is going to be a big year for LGFV bonds maturing, and many of them will have to find ways of refinancing at higher rates."