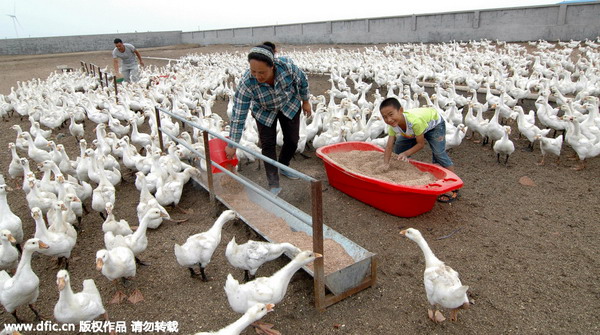 Farmers feed flocks of poultry with shredded dry sea-grass at a village in Baoding city, Hebei province, July 30, 2014. [Photo / IC] 
Nation seeks WTO intervention to ensure fair treatment of firms in the global market
China on Wednesday initiated the World Trade Organization dispute settlement procedure against the European Union for its import quota on processed poultry, as part of its ongoing efforts to ensure fair treatment for domestic companies in international markets.
In its complaint China said the EU had decided in 2013 to source 96 percent of its ready-to-eat poultry imports from Brazil and Thailand. The balance of 4 percent was to be divided between China and other nations. Not only was this far lower than the quantity imported from China earlier, it was a trade barrier for the nation's poultry producers.
Explaining its objection, China said the normal EU customs tariff for seven types of poultry products that come under quotas is between 8 percent and 10.9 percent. However, the tariff goes up to 51.08 percent for the same products without quotas.
Sun Jiwen, a spokesman for the Ministry of Commerce, urged the EU to modify its policy and offer Chinese companies fair treatment.
"China is determined to protect the interests of its poultry companies and hopes the EU will resolve this issue under the WTO rules," said Sun.
Under WTO rules, the EU has 10 days to respond. If it fails to respond within this period or could not reach a satisfactory result, China can ask for a WTO panel to look into the dispute.
China, the world's second-largest poultry producer after the United States, exported poultry products worth $133 million to Europe in 2014. Chinese poultry companies could gain an additional export amount of between $50 million and $150 million if the EU removed its discriminatory distribution measure on import quotas.
Eager to increase its market share in the European market, Chinese poultry product companies have invested 2.8 billion yuan ($451 million) to upgrade livestock and source new processing equipment to meet European product standards, according to the Beijing-based Chinese Chamber of Commerce of Foodstuffs and Native Produce.
Chen Fuli, deputy director-general of the department of treaty and law at the ministry, said the ministry will enhance its legal service capabilities and risk prevention mechanisms to further protect the interests of Chinese companies in overseas markets.
"We expect China and the EU to deal with the case in an active, pragmatic and flexible manner and create a favorable atmosphere for bilateral business ties from a long-term perspective," said Chen.
Last month, the EU said it will continue to impose anti-dumping tariffs as high as 54.1 percent on Chinese steel fasteners for the next five years in its final sunset review.
The move came after the EU initiated an investigation against carbon steel fasteners made in China in January 2014 and decided to extend the anti-dumping duty for another five years.
Sun Guangbin, deputy secretary-general of the China Chamber of Commerce for Import and Export of Machinery and Electronic Products, said the decision was "very unwise" as it benefits no one.
"Many European companies have set up their production bases in China, so both Chinese and European companies will suffer from it," he said, adding that the EU should stop adopting a double standard toward China.
Feng Jinyao, head of the China Fasteners Industry Association, said that Europe used to be a big market for China, but Chinese market share in Europe dropped to less than 0.5 percent due to anti-dumping duties. He said the Ministry of Commerce is likely to impose tariffs on certain EU-made iron and steel fasteners in a tit-for-tat move.
China, the world's biggest producer of screws, nuts, bolts and washers, produces about 10 million metric tons of fasteners every year, and has about 8,000 fastener manufacturers.