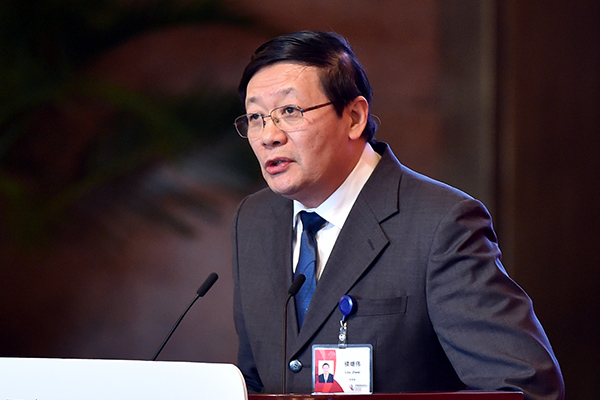 China's Finance Minister Lou Jiwei speaks during China Development Forum 2015 just a few days before the onging Boao Forum for Asia, March 22, 2015. [Photo / Xinhua] 
Central authorities won't bail out troubled borrowers, according to finance minister
China is likely to expand its bond-for-debt swap program to address the problem of legacy local government debt, Finance Minister Lou Jiwei said on Friday, adding that the central government does not intend to bail out local governments that cannot repay their debt.
His remarks reflected the central government's two-pronged strategy to address the thorny local government debt issue.
On the one hand, the central government wants to give local governments necessary leeway to cope with any liquidity problems. On the other, it is warning those same governments that if they get into trouble, they will have to "clean up their own mess", so to speak, and should not expect the central authorities to solve any crisis.
On March 9, the Ministry of Finance said that it had ordered the issue of 1 trillion yuan ($160 billion) of low-yield municipal notes to replace legacy liabilities, in a bid to ease local governments' mounting interest repayment pressure. That issue represents 53.8 percent of the 1.858 trillion yuan debt falling due in 2015.
However, considering debts incurred after June 2013 (1.858 trillion yuan was the amount recorded by State auditors as of that point), more than half of the legacy debt is not covered by the swap. How those high-cost borrowings are going to be repaid has become a widespread concern.
Lou sought to reassure the market by saying that beyond the 1 trillion yuan swap, there is more to come. "We are ready to further replace the debt," Lou said, adding that the risks arising from the local government debt are still "controllable".
But he said: "We won't mount any rescue. Previous documents have made it clear."
Lou also revealed for the first time that the number of local government-related borrowers had reached 100,000. Previous estimates had put the number at only about 10 percent of that.
Explaining the discrepancy, he said: "Not all of those entities are local government financing vehicles. They could also be government departments, such as a transportation department under a municipal government, or public institutions."
Numerous local government-related entities, including LGFVs, were set up in the past few years to borrow through bank loans, trusts or the bond market. Whatever the type of entity or its form of borrowing, the common aim was to bypass the 1994 Budget Law that banned direct local government borrowings.
As to how the future municipal bond quota will be distributed among more than 30 provincial-level governments, Lou said the size of each jurisdiction's debt hangover will be an important factor. Those with more debt will effectively be penalized by getting lower quotas.
Huang Qifan, mayor of the southwest municipality of Chongqing, revealed that as of Dec 31, the city's total outstanding liabilities exceeded 590 billion yuan. Of that, about 230 billion yuan was direct debt. Huang said that 77 percent of the debt was considered to be "generally controllable".
The city got a 33 billion yuan quota in the latest bond swap.
Chongqing is believed to have a higher debt-to-fiscal revenue ratio than many other regions.