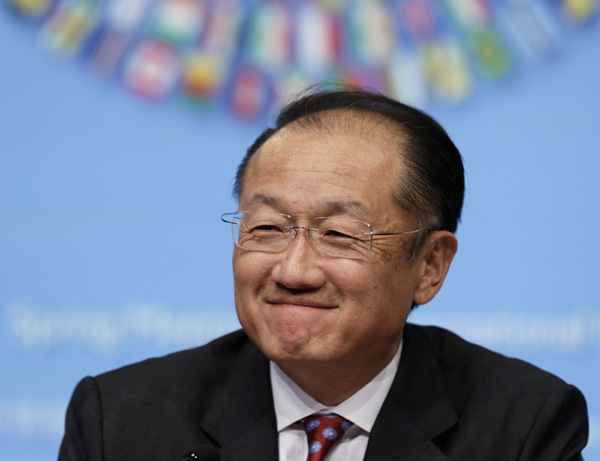 World Bank Group President Jim Yong Kim reacts during a news conference in Washington April 10, 2014. [Photo/Agencies]
WASHINGTON - World Bank welcomes the new development banks, such as China-proposed Asian Infrastructure Investment Bank (AIIB) and the New Development Bank established by the BRICS countries, and is ready to share experience with them, World Bank President Jim Yong Kim said on Tuesday.
The new multilateral banks could help bridge financing gaps in areas such as infrastructure, energy, and water, said Kim in a speech delivered at the Center for Strategic and International Studies in advance of the World Bank/IMF Spring Meetings which will be held next week.
"We estimate that the world needs an additional $1 to 1.5 trillion dollars every year to be invested in infrastructure - roads, bridges, railways, airports, and energy plants. By 2030, we will most likely also need 40 percent more energy and face a 40 percent shortfall of water - pressures that may well be further accelerated by climate change," he said.
With the right environment, labor and procurement standards, these new development banks have the potential to become great new forces in the economic development of poor countries in emerging markets, Kim said.
The World Bank will discuss with the Chinese and other officials about collaborations between the World Bank and the AIIB during the Spring meetings next week, he added.
In a teleconference held on Monday evening, the World Bank chief made the same remarks, saying although the AIIB discussions are still in an early stage, the World Bank is eyeing future collaborations with the new bank, as such collaborations would support economic development and benefit the poor and most vulnerable.
In the teleconference, Kim expressed the hope that when the AIIB starts running, it could participate in the World Bank-led Global Infrastructure Facility, a global platform that will facilitate the preparation and structuring of complex infrastructure Public-Private Partnerships and mobilize private sector and institutional investor capital.
When asked to comment on the issue that the United States did not join the AIIB, Kim said that "you can expect that there will be agreements and disagreements (between the US and China)." He took the climate change deal that both countries reached in November as a positive demonstration for the collaboration between the two largest economic powers in the world.
In his Tuesday's speech, Kim also called on more efforts to help nearly a billion people living on less than $1.25 a day to get out of poverty.
In order to end extreme poverty, he said countries should give priorities to issues, such as increasing agricultural productivity, building infrastructure that provides access to energy, irrigation, and markets, promoting greater and freer trade, investing in the health and education of women and children, and implementing social safety nets and providing social insurance.