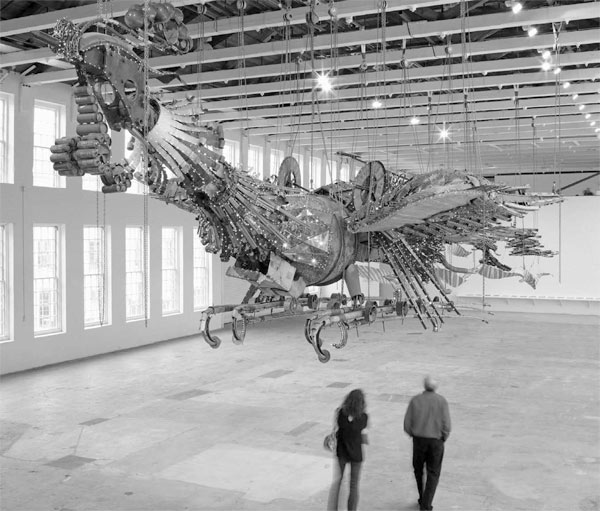 Visitors to the Massachusetts Museum of Contemporary Art approach one of two giant phoenix installations that artist Xu Bing created from construction waste. Photo provided to China Daily
Artist Xu Bing's massive phoenixes take flight in the US, giving exhibition-goers a complex sense of China's rise. Kelly Chung Dawson reports in New York.
The phoenix has appeared in both Western and Eastern mythologies for millennia, with variations in form and symbolism across cultures.
The healing birdlike simurgh of Persian folklore was said to have survived human civilization's destruction and rebirth three times.
In China, the ancient fenghuang was originally two birds, male and female, that along with the dragon, tortoise and chimerical qilin, governed the universe. Its appearance traditionally heralds an era of peace and prosperity. Unlike its Western counterpart, said to cycle through death and rebirth, the fenghuang lives forever.
In a new installation at the Massachusetts Museum of Contemporary Art, the artist Xu Bing recently unveiled two Chinese phoenixes, each weighing 1.8 tons. The work explores the meaning, to various audiences, of China's rise.
The birds, 27 and 30 meters long, are suspended from the ceiling of a football-field-sized wing of the museum, and are assembled entirely from the detritus of urban Chinese construction sites collected over two years. At night, LED lights shine from within the sculptures like pinpoints of a constellation.
"In Chinese culture, the phoenix symbolizes the hopes and desires of a better future, even when those hopes are not necessarily realizable," the artist says.
Xu, vice-president of Beijing's Central Academy of Fine Arts, is known worldwide for his subversive calligraphic explorations of Chinese language.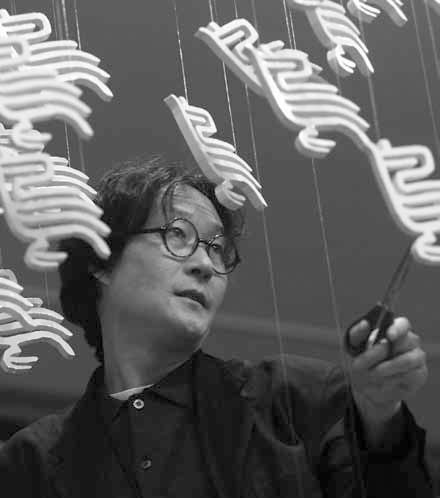 Photo by Gao Erqiang / China Daily
His 1988 installation Book from the Sky featured thousands of mock Chinese characters that appeared authentic at first glance. In 1999, Xu was awarded a prestigious MacArthur Foundation "genius" fellowship in crafts and design.
"He is a consummate interpreter and interpolator of different traditions, cultures and languages," Mass MoCA director Joseph Thompson says.
"In the West, the phoenix signifies rising from the ashes of destruction, and that mythology doesn't exist in China. He is clever in encouraging us to merge those meanings. I admire the way he continuously prods us, making us realize that just when we think we understand a culture, we don't.
"Likewise, when we think interpretation or understanding is impossible, he proves that it's more direct than we think," Thompson says.
The phoenix project began in 2007 as a commissioned work to be installed between two new skyscrapers in Beijing's central business district. When Xu arrived at the site, he was struck by the lives of construction workers.
"There was an intense contrast between their conditions and the beautiful and modern buildings being built everywhere around us," Xu recalls. "I felt that so many of these big luxurious buildings being built in China are made to show off wealth, and I started thinking about the possibility of using trash, tools and the things these workers used in daily life to make something.
"Putting this really raw material inside a luxurious building would make it appear more luxurious, and would also emphasize the rawness of the conditions of the workers. I realized it was a way to talk about the relationship between wealth and labor in China."
The installation, Phoenix, was to appear in a glass atrium, which to Xu's eyes looked a bit like a cage, he says. He decided to make a pair of birds in flight, moving upward as if unaware of their constraints.
"I wanted to create both a sense of limitation, and also a complete lack of limitations," the artist says. "There is a tension there."
While the birds might be read as critical of economic development, they aren't meant to convey a message that simple, Thompson says.
Xu is "exploring the fallout of the radical and jaw-droppingly rapid development of the Beijing skyline," the museum director says. "He's interested in both how these big luxurious buildings get made, and the stories of the laborers who build them. You feel all of that when you're looking at these raw, powerful pieces.
"He's bringing our attention back to the ground.
"On the other hand, in choosing the phoenix, and knowing how stories and both Western and Eastern mythologies are conflated, it's not entirely critical. There is something truly glorious about their upward flight. They're like stars — they shine."
Xu's birds were ultimately never installed in the commercial atrium. The financial crisis of 2008 left developers with "a limited sense of humor", he says. They feared the work might be too critical or ironic in light of their sudden financial difficulties.
Phoenix eventually appeared outside Beijing's Today Art Museum, and at the 2010 Shanghai Expo. The Massachusetts museum — in North Adams, near the state's western border with New York — is the first non-Chinese site to house the installation.
The Mass MoCA exhibition also features other works by the artist, including a vertical light box that replicates a Qing Dynasty (1644-1911) landscape. At first, the piece appears to be a traditional ink painting, but it is revealed to have been rendered in trash and debris when viewed from behind. The idea that things aren't what they seem sets a tone for both Xu's work and the exhibition, Thompson says.
The choice to exhibit Phoenix at Mass MoCA is particularly meaningful because of the building's history, Thompson says.
In the late 1800s North Adams experienced a manufacturing boom, briefly making it the biggest Chinese-immigrant city east of the Mississippi River. The building that now houses Mass MoCA was leased as a fabric-printing factory, employing hundreds of Chinese immigrants who helped produce knockoffs of European fashions.
"This site has a complex transcontinental relationship to what was going on in the Far East," Thompson says.
"I'm a firm believer that when you're trying to understand complex international relationships, artists are the most interesting people to listen to."
Xu, who lived in the United States for almost 20 years and whose 2011 installation Where Does the Dust Itself Collect? is about the Sept 11 terrorist attacks, believes Phoenix wouldn't have been possible had he not moved back to China in 2008.
"Only in this moment of China's rise could I have been moved to make work like this," he says. "If I had stayed in the US I wouldn't have felt so strongly.
"This work carries with it a flavor of China — the smell and the realities of the country today. It is full of concern about the lowest levels of Chinese society, and it's my way of acknowledging the practice of very poor people using the lowest materials to dress themselves with great self-respect.
"That is the heart of Chinese folk art: using the cheapest materials to create something that is unrealizable in daily life."
"My hope is that American audiences will see these phoenixes bearing scars, but proudly and with a great sense of self-respect, flying forward," Xu says. "I want them to feel a sense of the power and creativity that we have as a people."
Contact the writer at kdawson@chinadailyusa.com.