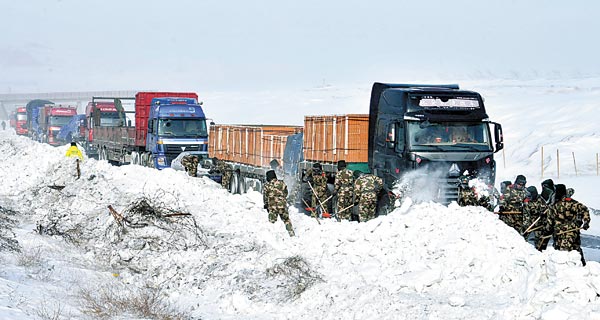 Soldiers in the Xinjiang Uygur autonomous region clear the road for stranded vehicles on Sunday. A cold snap is causing traffic delays in parts of China. Zou Yi / For China Daily
A cold front has descended on many provincial capitals, with temperatures in some cases hitting well below -20 C, while temperatures in parts of central and eastern areas are predicted to hit record lows, the National Meteorological Center said.
The cold spell has claimed lives and led to calls for public buildings to conserve energy to ensure heating for residential areas.
Temperatures dropped sharply overnight in the north, the Inner Mongolia autonomous region, Fujian and Guangdong provinces, Xinhua News Agency reported.
Many areas experienced the lowest temperatures so far this winter, including parts of the Xinjiang Uygur autonomous region, Shandong, Yunnan, Guizhou, Hubei, Hunan, Fujian, Guangdong and Hainan provinces.
Some areas in Inner Mongolia witnessed the mercury falling to -40 C on Saturday and Sunday.
Highways in Yantai, a coastal city in Shandong province, were temporarily closed on Sunday due to heavy snow.
Heavy snow will continue hitting northeastern parts of Shandong province and northwestern parts of Xinjiang through Sunday and Monday.
The lowest temperature recorded in Harbin, Heilongjiang province, was -29 C on Sunday, not much colder than the highest of -22 C. Tuesday is predicted to be the coldest day, when the thermometer is expected to record -33 C.
In the neighboring province of Jilin, the lowest temperatures in the cities of Changchun, Liaoyuan, Tonghua and Baishan could also plunge to -33 C on Tuesday, the center said.
The average temperature in Jilin this winter has been -24 C, 11 to 14 degrees lower than in other years.
In Changchun, capital of Jilin province, the city government has asked that home heating be increased.
Homeless aid stations in the city also responded by searching for those in need of help, especially children.